Keep Your Rig Running Newer, Longer
Routine maintenance is key to your rig's safety and performance – and it'll save you a lot of money in the long run. Keeping your van in good health and ready for the next adventure shouldn't be a daunting task. Our service technicians can help keep things in tip-top shape so you can be ready when the open road calls.
Recommended Routine Van Maintenance
Oil Change
Regular oil changes will keep your engine running better and longer. Clean oil is imperative for your engine's performance, for optimal gas mileage, and so much more. 
Mercedes-Benz Service A and Service B
All Mercedes-Benz Sprinter owners should bring their vehicle in for Service A and Service B at the appropriate intervals. These required service checklists ensure that your vehicle is fine-tuned for optimal performance so you can better preserve your car's resale value and its longevity. These services are provided by our Mercedes-Benz certified technician.
Wheel and Tire Alignment
Keeping your wheels aligned improves your fuel efficiency, your steering and vehicle handling, maneuverability and tire wear. Wheel alignment, also known as tire alignment, is important for vehicle safety, steering and handling, fuel efficicienty and tire wear. We utilize the latest technology from Hunter Engineering to get your vehicle alignment to its optimum state.
Recommended Service Interval: Every 6 months or 6,000-10,000 miles

Rotating and balancing your tires will not only prolong the life of your tires but also protect your suspension. We utilize the latest technology from Hunter Engineering to get your tires balance and rotated.
Recommended Service Interval: Every 3 months or 3,000-5,000 miles
Electrical Health Check
Electrical system health check ensures your electrical system is operating properly. During this health check we thoroughly inspect all your power systems – including solar, Lithium, and AC/DC charging. 
Recommended Service Interval: 1x/year
Heater Servicing
Periodic servicing of your auxiliary gas or diesel furnace heater is recommended to keep your heater running clean and efficiently. During servicing, your heater and key elements are cleaned and/or replaced and fuel and exhaust lines are checked.
Recommended Service Interval: 1x/year
Exterior Accessory Re-torque
Get your exterior accessories re-torqued to ensure safe and secure mounting of all exterior accessories.
Recommended Service Interval: 1x/year

Exterior Detailing
Protect your van's exterior and paint with a full, comprehensive detailing that includes an exterior wax and ceramic coating. 
Recommended Service Interval: 1x/year

Dent Repair
Sometimes they're hard to avoid. When your vehicle gets dented, we offer paint-less dent repair, performed by a certified PDR technician.
Windshield and Glass Repair
We offer auto glass repair, replacement and installation.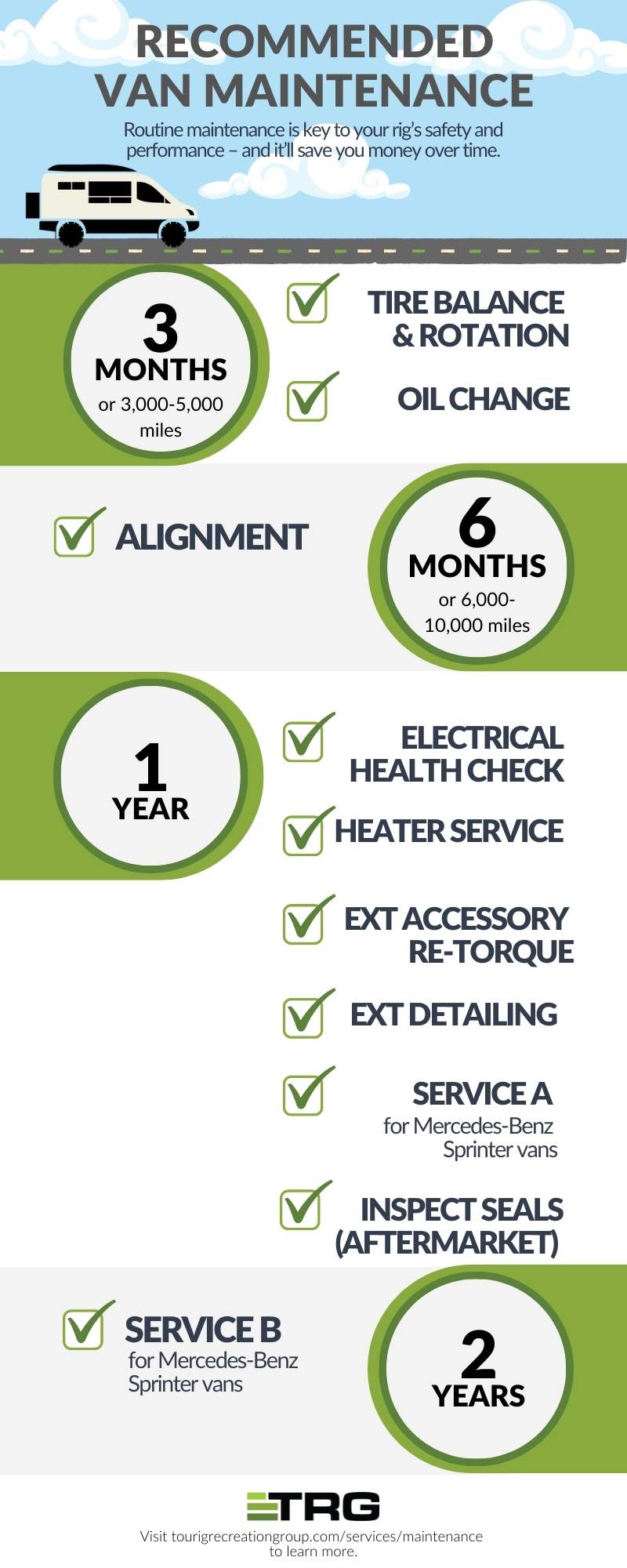 Check Out Our Other Services
We offer all the service and installation work that you could ever need for your van. Check out the list below for some of our most common interior van installations, exterior van upgrades, tech upgrades, heating and cooling services, and performance upgrades.

Performance Upgrades
Instill confidence and control when venturing out with upgraded performance suspensions, wheels, tires, and tuning.
Tech Upgrades
From audio enhancements to communcations and connectivity, we've got you covered. 
Heating & Cooling
Add auxiliary heating and cooling systems to make your van more comfortable in varying climates and seasons.

Interior Van Upgrades & Installations
Enhance your van's living space with interior features such as new cabinetry, galleys, seats, swivels, flooring, storage solutions and more.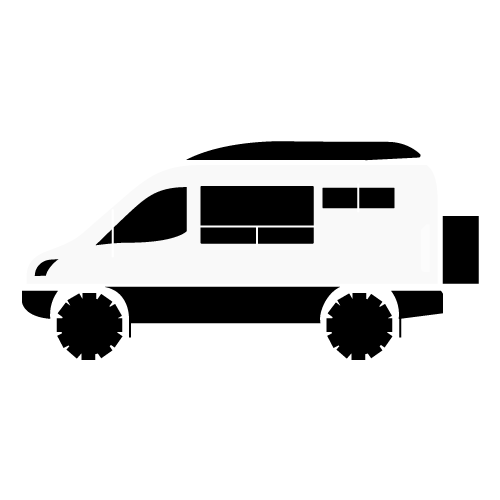 Exterior Van Upgrades
Maximize your carrying capacity and enhange the look and functionality of your rig with storage carriers, bumpers, roof racks, ladders and more.
Schedule Your Service Work
With Experts You Can Count On