Here's a list of questions that frequently get asked. While a lot of this information can be found throughout our site, we figured you might find it useful to have answers to a lot of commonly asked questions available all on one page.
Which vehicles does TOURIG work on?
TOURIG is authorized to work on the Mercedes-Benz Sprinter as well as the Ford Transit vans.
How much does a TOURIG cost?
A TOURIG vehcile (vehicle and build) starts at $139,000.  Prices can increase depending on the vehicle you want and the layout that you choose.
Does TOURIG provide the vehicle or do we purchase our own?
TOURIG is not currently involved in the purchasing process of the vehicle other than initiating contact with a Mercedes-Benz or Ford sales specialist. TOURIG can provide recommendations for OEM options that will benefit you in the conversion process.
How do I get started?
Schedule an Initial Consultation. An Initial Consultation is a 30-45 minute conversation, either in house or over the phone to discuss your wants, needs and desires. We can cover general rough pricing and estimated timeline of your build at this time.
How do I secure a spot on your build calendar?
A $3,000 deposit is required to secure the next available slot on TOURIG's build calendar. ​
Please note: Security deposits are fully refundable from the date of payment up until 30 days prior to the project's targeted start date. If a cancelation is prompted by the customer within the 30 days leading up to the targeted start date, TOURIG will be responsible for submitting a refund of 50% of the original paid deposit amount. If an alteration is prompted by TOURIG that delays the targeted start date by 30 days or more, the customer may request a 100% refund of the original paid deposit amount. Any alterations to the original target start date prompted by TOURIG that creates a delay less than 30 days but generates a cancelation by the customer will be paid at 50% of the original paid deposit amount.
How long does the conversion take?
A full conversion requires 4-12 weeks depending on the details of your project. This timeline includes prep, production, testing, photo/video and delivery.
Can I bring my own parts for TOURIG to install?
Since the integrity, quality and application of customer-supplied parts cannot be guaranteed, they cannot be included in the build. Nonetheless, TOURIG is always interested in learning about new items and encourages you to bring your ideas to your design consultation as a point of reference.
How does the design process work to build a rig that fits our unique needs?
Once your deposit is received you will be introduced to your in-house account manager. Together you will schedule your design consultation to discuss your buildout and receive a price estimate. Once the design has been finalized and you have signed off on the initial estimate, you'll receive a targeted date to bring your van to our facility to start the build process. In the months leading up to your scheduled start date, you will work with your account manager to answer any questions and make any necessary changes and updates. Changes to your original design may result in price/timeline changes and/or delays.
Does TOURIG have set floorplan options or can I design my own layout?
TOURIG is a high-performance custom vehicle shop, we will work with you to design your vehicle in order to maximize cargo transportation, seating and sleeping efficiency for as many people as needed and include the necessary features for your desired level of comfort. Your input and design ideas are always encouraged. Based on our experience and expertise, recommendations will be given. In-house experts have years of experience building custom vehicles day after day so they are a fantastic resource!
Do you offer financing?
TOURIG does not currently offer financing options. All outstanding balances must be paid in full upon completion of your project.
What is your warranty policy?
TOURIG has a 3-year limited Rock Solid Guarantee.
Do you offer financing?
TOURIG does not currently offer financing options. All outstanding balances must be paid in full upon completion of your project.
How long has TOURIG been in business?
TOURIG came to fruition in the fall of 2015. We started as a two man operation in a small garage in Nederland, CO and have grown to a 20+ person operation in Golden, CO.
YOUR ADVENTURE STARTS HERE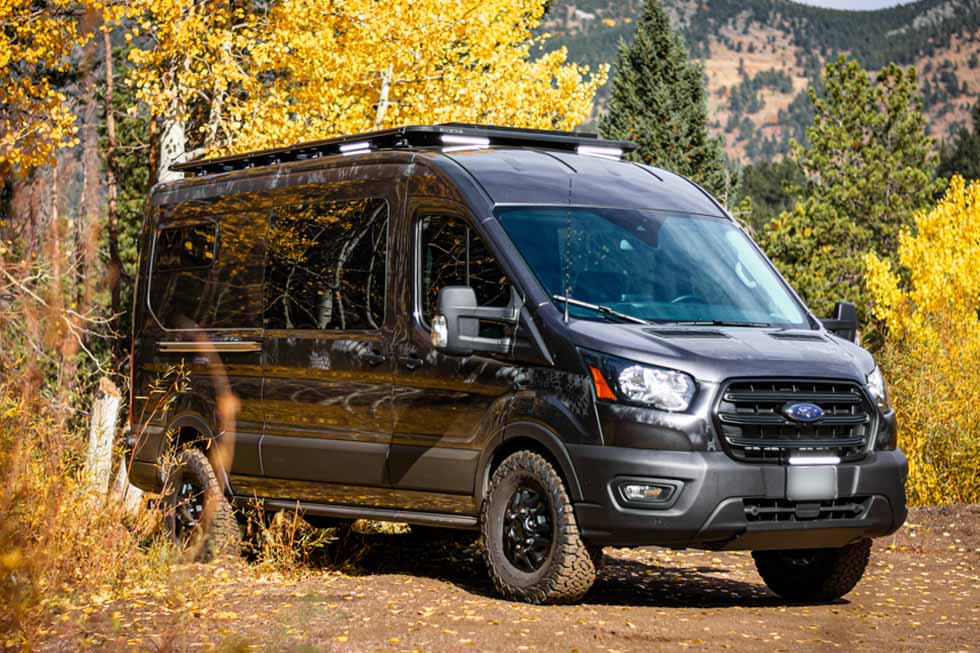 Camper Vans
Sprinter and Transit Vans
Seating for up to 6
Sleeping for up to 6
Complete Vehicles Starting at $175K
Spec Builds
Pre-Built Sprinter & Transit Vans
Seating: up to 6
Sleeping: up to 6
COMING SOON
Complete Vehicles Starting at $149K
Camper Trucks
Ford 550 Expedition Truck

Seating: for up to 5
Sleeping: for up to 5
Complete Vehicles Starting at $549K
READY TO GET YOUR VEHICLE CONVERSION STARTED?
Here's How...