HERE'S HOW IT WORKS.
Ready to get started?
Here's where the fun begins! Every step of the build process is important for both of us. We'll start with an initial consult, which is a chance to get to know us and our work and make sure we're the right fit. Once you have a feel for our work and are ready to move forward, we'll collect an initial deposit and begin designing your rig. See below for more details of the process. 

Initial Consult
Schedule a 30-45 minute conversation (in-house or over the phone) to discuss your ideas, meet the team (if in shop) and discuss the rough pricing and timeline of your project.

Security Deposit
Once you've decided to move forward, a $3000 fully refundable deposit secures the next available slot on our build calendar. You'll then be introduced to your Design Consultant, who you'll work with throughout the design process of your rig.

Design Phase
Once your security deposit is received you'll be introduced to your Desgin Consultant, who will guide you through the design phase and help you come up with a build that's most suitable for your needs. You'll begin with an initial design consult to go over the features and functions you want in your rig and draft a layout of your van. Based on your layout we'll then draw up an estimate for you to approve and then finalize the design.

Buildout
A full conversion requires approximately 6-12 weeks (depending on the build).
When you drop off your vehicle to us, a non-refundable deposit of 60% of your estimated build cost is required. Once your vehicle is in shop you may occasionally receive calls from our Chief Production Officer to ask questions, confirm placement of specific items, etc. Throughout this phase your Account Manager will be in touch and periodically send updates as your vehicle is moving through the build process.
Delivery
Once your completion date is confirmed, we will schedule your pick up date. Upon delivery, you'll get a thorough walk-through of your vehicle with a member of the production team as well as the lead electrician of your build. Please allow at least 2 hours for this process.
You'll walk away with a user guide with diagrams and descriptions of the electrical/plumbing components of your vehicle. This user guide will also include the manuals for any products installed in your vehicle.
Before leaving, the remaining balance for your project will need to be paid in full.
YOUR ADVENTURE STARTS HERE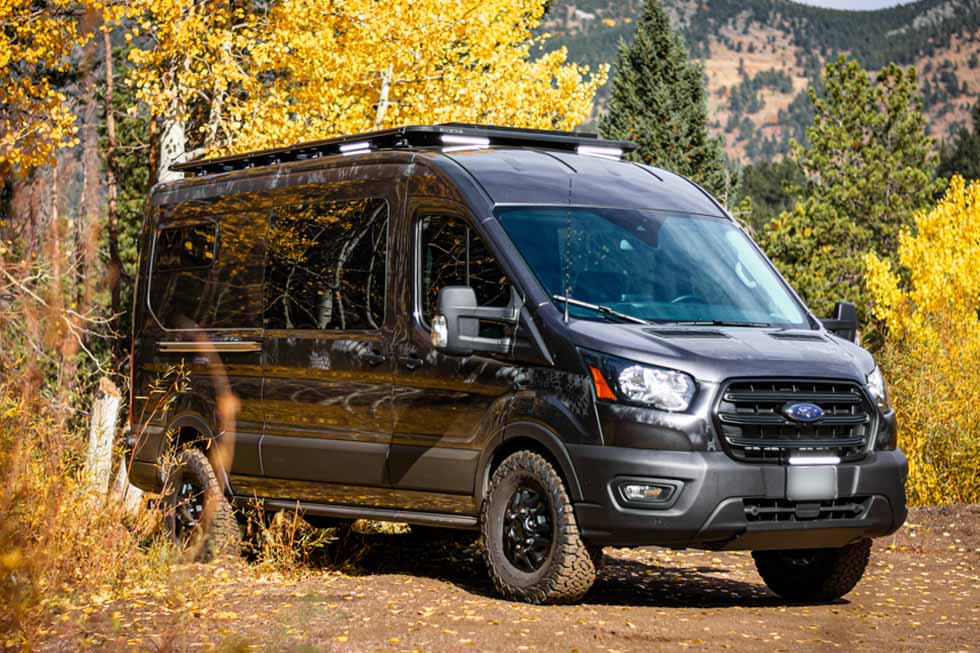 Camper Vans
Sprinter and Transit Vans
Seating for up to 6
Sleeping for up to 6
Complete Vehicles Starting at $175K
Spec Builds
Pre-Built Sprinter & Transit Vans
Seating: up to 6
Sleeping: up to 6
COMING SOON
Complete Vehicles Starting at $149K
Camper Trucks
Ford 550 Expedition Truck

Seating: for up to 5
Sleeping: for up to 5
Complete Vehicles Starting at $549K
READY TO GET YOUR VEHICLE CONVERSION STARTED?
Here's How...