XAV – Xtreme Adventure VEHICLE
Tailored Design, Unique Experience
XTreme Adventure Van (XAV)
Tailored Design and Limitless Options for a Unique Experience
These rigs feature live-aboard type amenities with advanced hydronic heating systems, power friendly 12 volt cooling (optional), robust Lithium auxiliary power, integrated wet baths (optional) and plentiful storage with our Airliner series cabinetry. Available in AWD and 4×4 models making for an easy transition from snow covered mountain roads to desert washboard.
Get a fully built TOURIG XAV
starting at $149K (price based on a $60K Mercedes Benz Sprinter 144 high-roof van)
Available in the following Base Models…
Mercedes Sprinter 2WD - 4WD
Mid Roof AWD Eco-Boost
High Roof AWD Eco-Boost
Gallon Filtered Water System
Amp-Hour Lithium Battery System
FEATURES
What You'll Love About This Rig
EXTERIOR FEATURES & OPTIONS
Fixed Features
Airliner Roof Rack (other options available)
Airliner Rear Door Ladder (other ladder options available)
Solar Panel Package
Windows: Large Vented, Bunk Vented (as appropriate)
Ceramic Window Film on Driver/Passenger Windows (other windows optional)
Upgraded Performance Suspension
Upgraded Alloy Wheels and All-Terrain Tires
Shore Power and Auxiliary Solar Charging Plugs
Options
Protective Front Bumpers (several options)
Protective Rear Bumpers (several options)
Protective Side Steps (several options)
Rear Tire Carrier (several option)
Rear Cargo Boxes (several options)
Rear Bike Carriers (several options)
Aftermarket Fuel Tanks
Underbody Protection
Winch
Pop-Top (high-roof Sprinter only)
Awning (several options)
Exterior LED Performance Lighting (several options)
Packasport Roof Storage Box (rear opening)
Vinyl Graphics
INTERIOR FEATURES & OPTIONS
Fixed Features
Airliner Roof Rack (other options available)
Galley with Fridge, Sink and Cooktop
Fresh Water System with Hot Water
Hydronic Heating System
Side Door and Rear Door Hot/Cold Water Spigots
Auxiliary Lithium Battery System
Interior LED Lighting Package
Modular Bed System (upper and/or lower)
Roof Vent(s) w/ Fan + Interior Adjustable Fan(s)
Airliner Aluminum Cabinets Throughout
Cell Booster Antenna
Fully Upholstered Interior
Luxury Commercial Grade Flooring
Continued…
Fixed Features Continued…
Cassette Toilet
Extreme Temperature Ceramic and Insulation Package
Window Cover Set – Storage Bags
Beverage Holders (2 per bed)
Options
SmartFloor System (pull test certified floor/seat system for rear seats)
Premium Rear Captain's Chairs (options for removeable, pull test certified)
Premium Upgraded or Reupholstered Driver and Passenger Seats
Custom Upholstery
Auxiliary Air Conditioning
Additional Storage Solutions
Premium Audio Upgrade
iPad Mounting/Charging Stations
Stainless Steel, Composite or Portable Shower Options
Interior Upgrades
IsoTherm 85L fridge and 65L freezer
TOURIG full stainless shower with portable toilet
Scheel-Mann Seats
Custom Settee with upholstery to match the Scheel-Mann seats
Diesel Cooktop and Stainless Sink
Cell Booster
sPod 4×4
Marine DC fans
LumiCoin Lighting
INSPIRATION: CUSTOM SPRINTER AND TRANSIT VAN BUILDS
Every rig we build is designed with the customer in mind. Each of these vans are built with the highest quality parts and craftsmanship with weight savings and functionality always in mind. See some of our latest, most popular van builds below.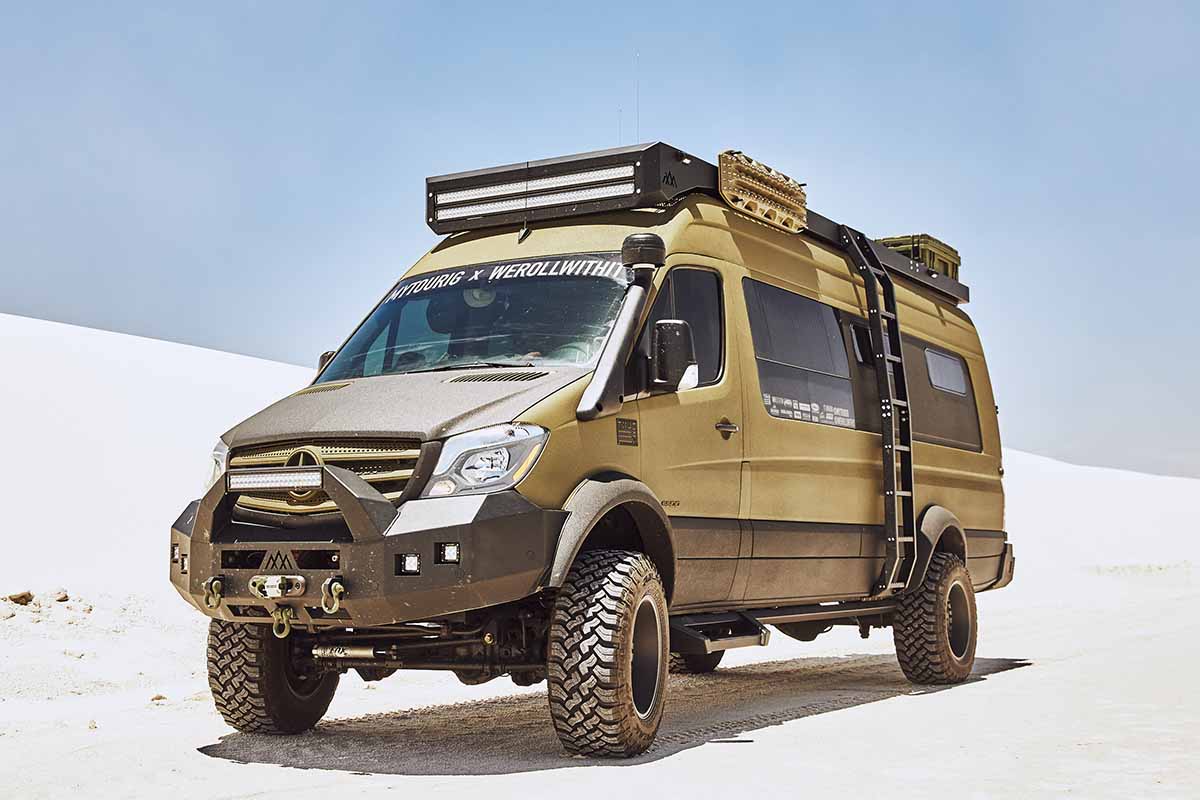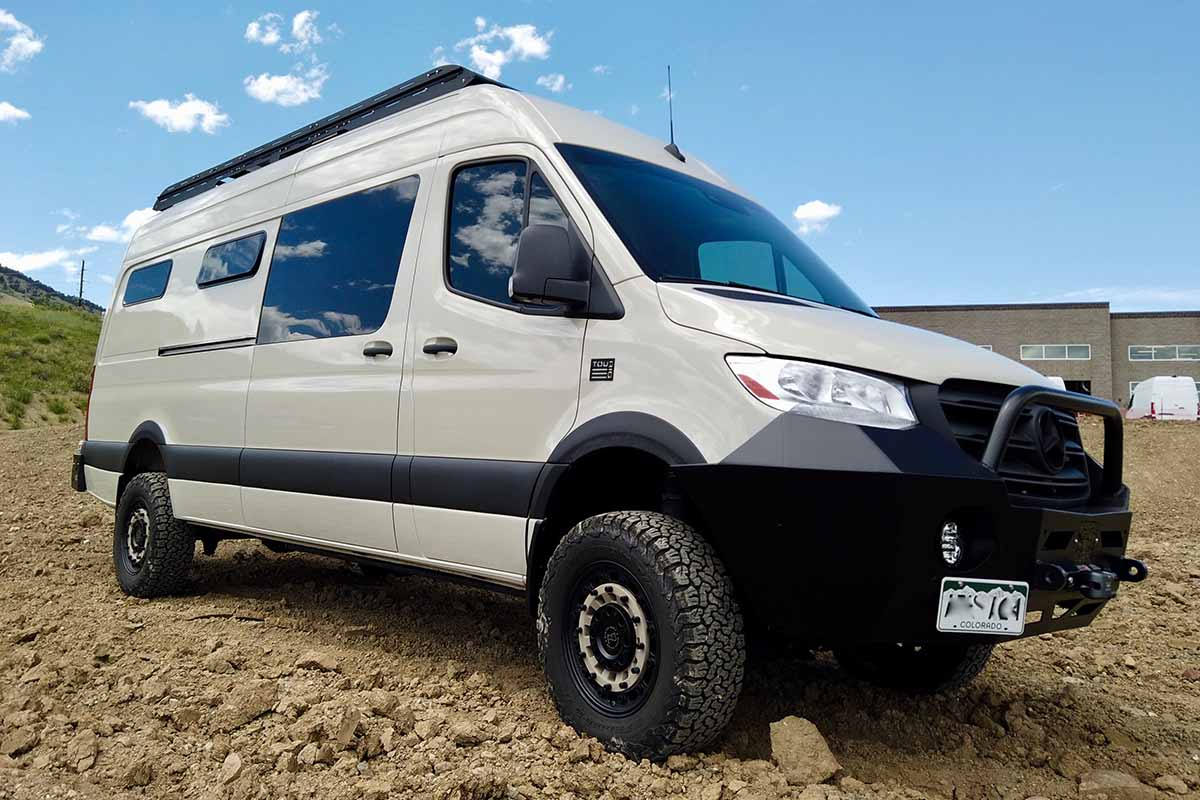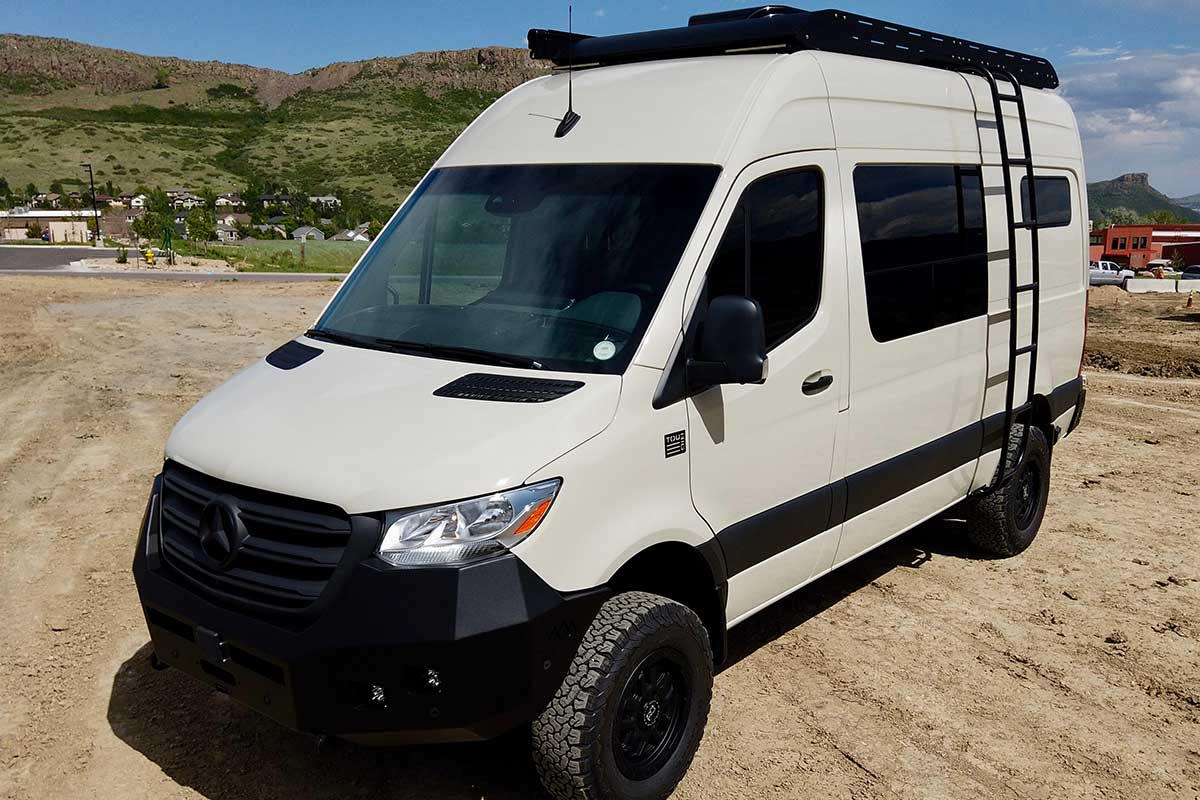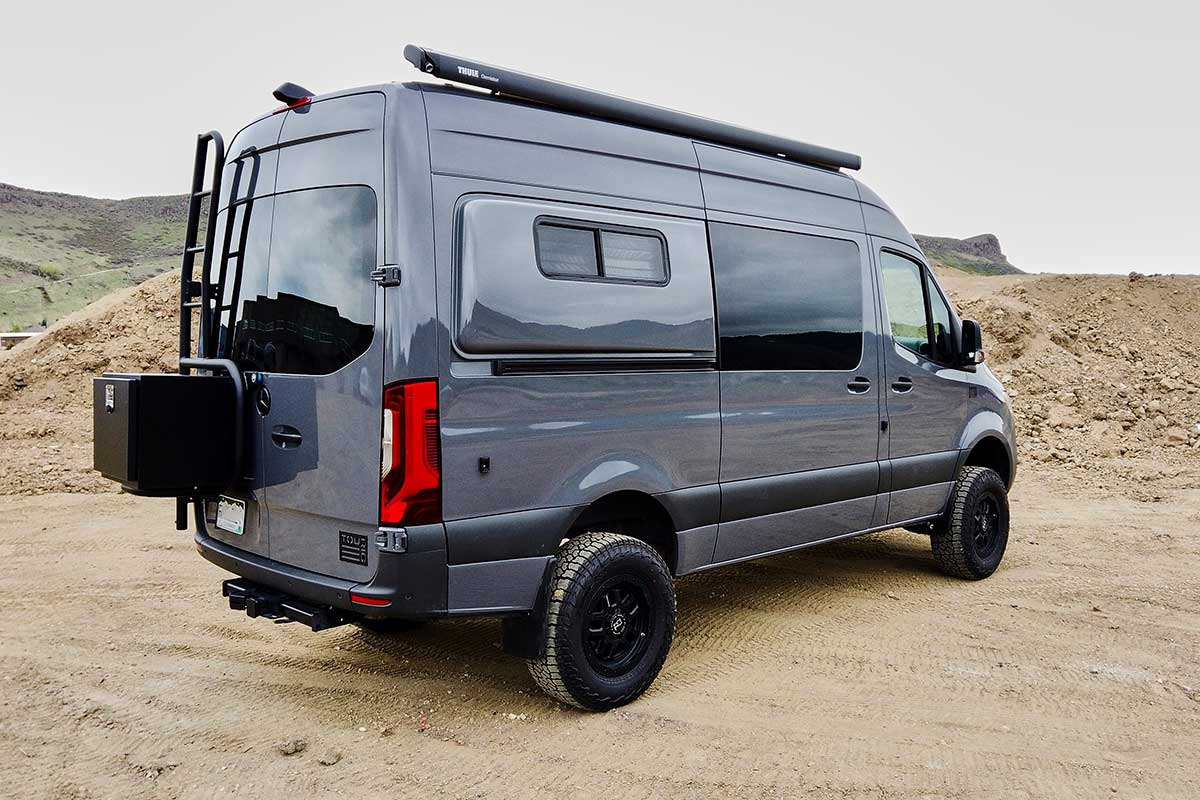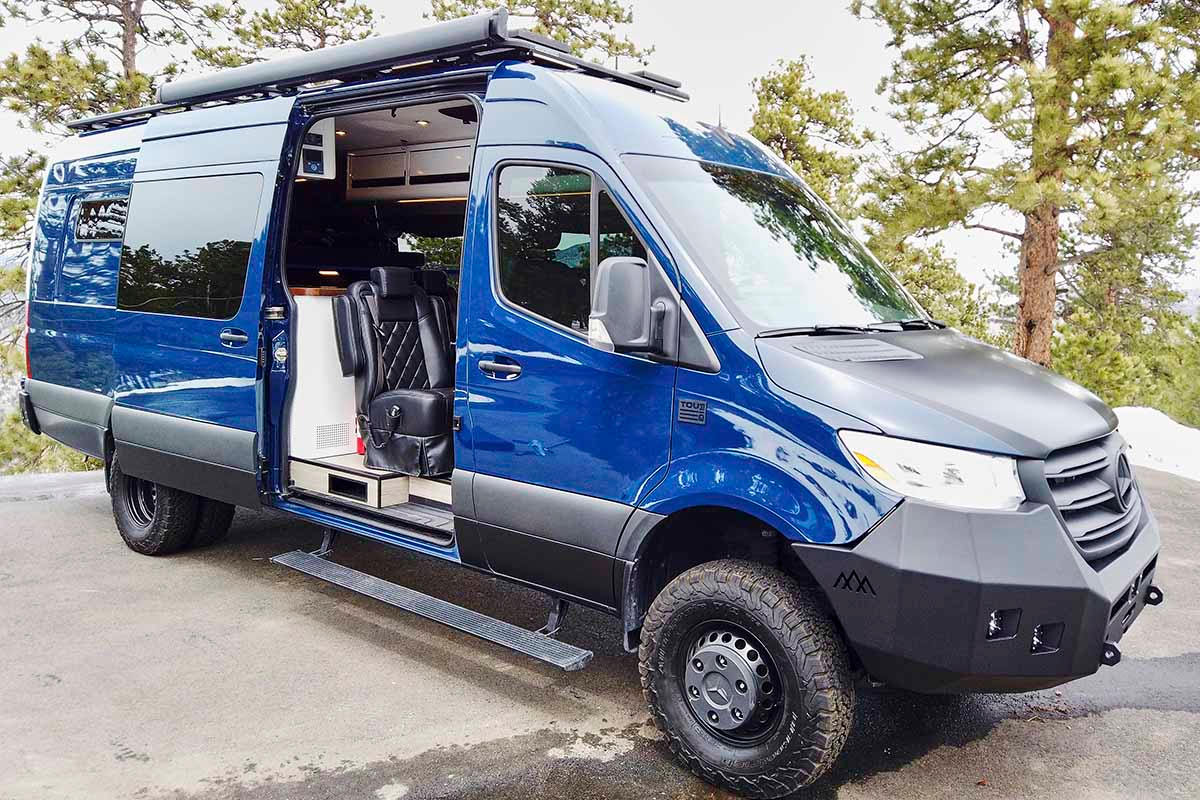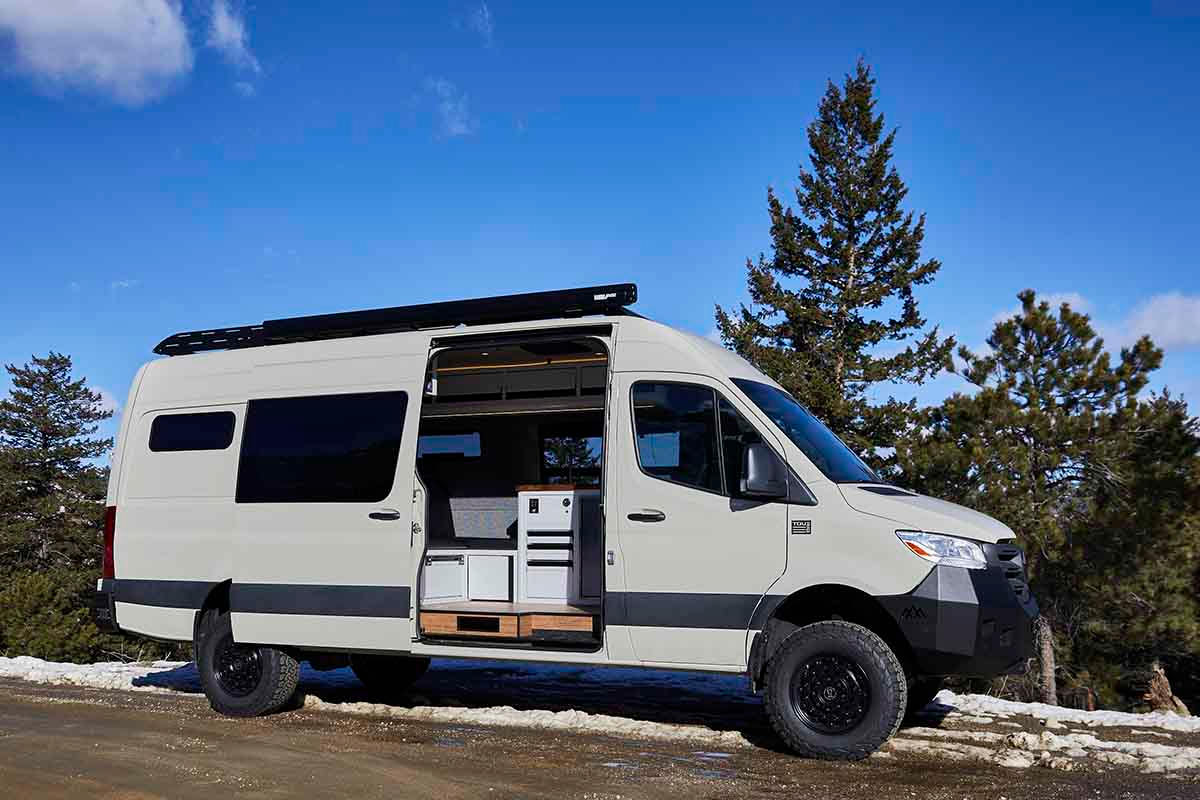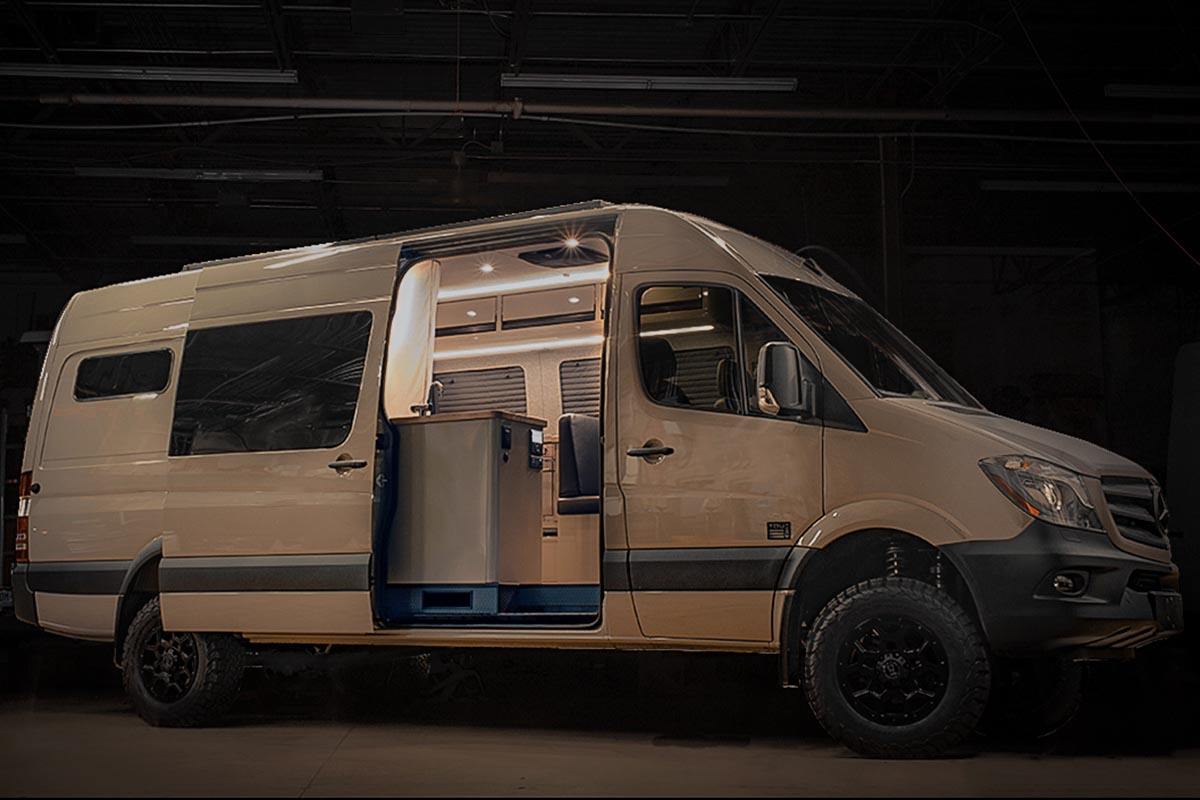 READY TO GET YOUR VAN CONVERSION STARTED?
Here's How...