We caught up with Scott Coe to see what life is like owning a TOURIG. Scott lives in Boulder, CO and takes his TOURIG on some adventures that would make anyone envious.
Why did you want a TOURIG?
To us, the van was the ultimate adventure enabler: half cabin and half toy box. We've always been more about the road ahead than the stationary aspects of a weekend retreat we were beholden to.
Taking a look at Scott's Instagram, @ScottByBike, we can see why he needed a toy box. Riding bikes, rock climbing and fishing are just some of the usual activities on the list for the family and their dog, @chunkamoose. The TOURIG team took this active lifestyle into account when designing the buildout with Scott, making sure he and the family would have everything they needed to get out and enjoy.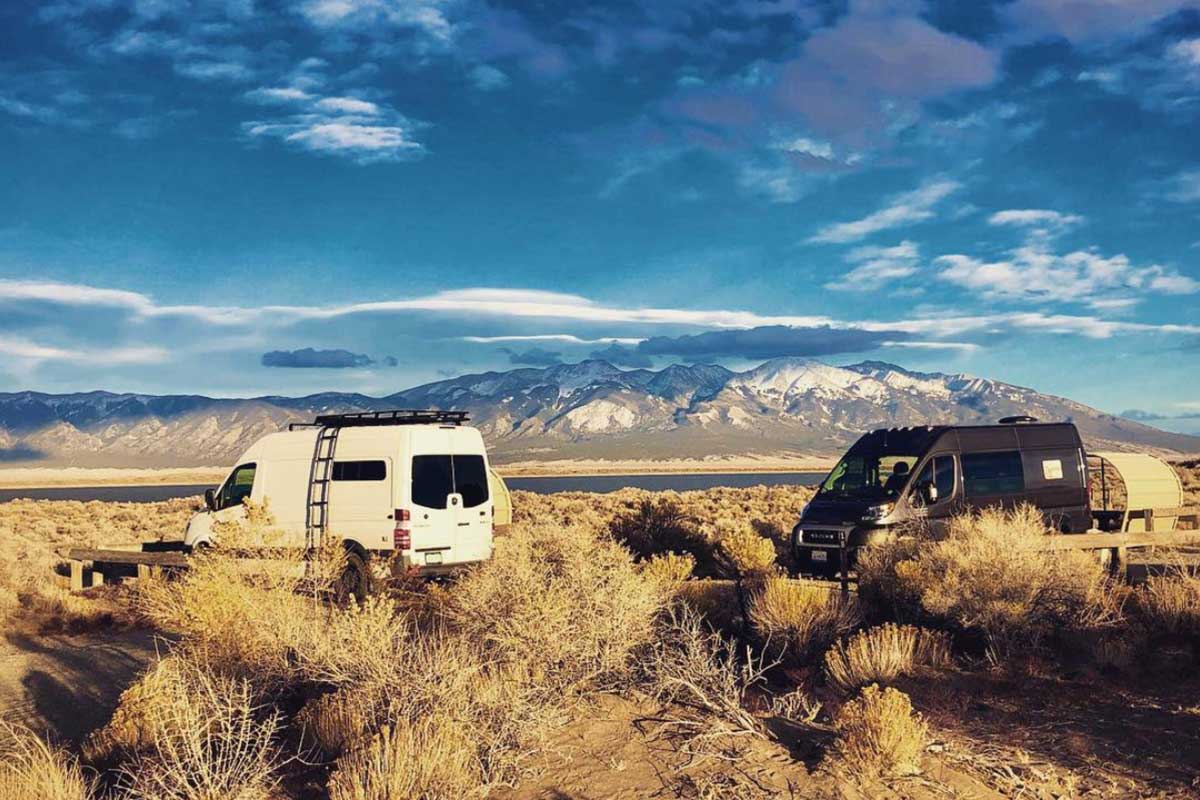 Vans run in the family. Scott camped with his Dad near the Great Sand Dunes, CO.
What made you choose TOURIG for your van buildout?
Their perspective on performance, practicality and solution-focused design. Building out vans that met a lifestyle goal rather than just blinging a chassis up like an old-school RV. Everything has purpose. And the team brought a hell of a lot of passion and skill to the process.
What do you use your TOURIG for?
It is our magic carpet. Our shove to go out and explore something. Practically speaking, it is for weekend escapes and longer-term adventures as our time frees up. But because it has become a talisman for the road less traveled, we find ourselves in it sharing a glass of wine in the driveway on a Wednesday evening or driving up the hill to lay on the roof and watch a meteor shower.
Scott and Moose out fishing
Canyon riding with friends
views from Gunnison National Park, CO
What is the best place you've ever parked TOURIG and why?
That's a tough one. There is a little side road outside of Yellowstone we've been to a few times, tucked in behind a resort where you wouldn't know to look, that ends near a quiet creek in an idyllic valley where you feel like you are truly at the end of the road. But we've had some pretty great adventures poaching a church parking lot a mile from the ski lifts on a snowy night to get first chair.
Fresh snow in Yellowstone, WY
What is the best feature of your TOURIG?
As low tech as it sounds, the garage. All the systems, racks, gadgets and such are great. But the design that allows a super comfy sleeping platform, with an adaptable space to accommodate our fleet of road, gravel man bikes, or the occasional SUP or board, or in a pinch, a bed for a friend, is awesome.
Where can people follow your adventures?
@ScottByBike is my main Insta site when we're out.  And a big 2020 resolution is to post more of the adventure.
Any advice for people out there considering getting a TOURIG?
Dream big at first. Imagine all the stuff you could do. And then reel it in and think about how you can evolve your van with your lifestyle. In the end, you'll find it's the other way around. You evolve your lifestyle with your van…
Great insight from Scott! If you're thinking about a TOURIG and looking to ask more questions to TOURIG owners we have a Facebook group for that. Please join the conversation at https://www.facebook.com/groups/mytourig/