We caught up with TOURIG owner, Suzy Yoder to see what life is like owning a TOURIG. Learn about some of she and her husband, Jeff's, favorite spots to take their custom Sprinter van, why they chose to build their van with TOURIG, and more.
When did you get your TOURIG?
March 5, 2020. After at least a year of serious planning, we picked up our van in Golden, right as the reality of COVID was setting in.
What made you choose TOURIG for your van buildout?
We decided to have our custom Sprinter build done by TOURIG after we made a trip to Overland Expo in Flagstaff, AZ in 2018. Jeff had been doing lots of online research and also wanted to see vans from different builders up close. Overland Expo gave us the perfect opportunity to check out many different builders and builds. We kept coming back to the TOURIG vans and the TOURIG team and just knew it was the right fit for us. We loved the clean design: minimalist appearance but maximum performance. The buildouts fit our aesthetic with the clean cabinets and quality framing and upholstery. All of the systems are organized with subtle, functional details that make a big difference.
After Overland, we put down a deposit to reserve a TOURIG build date and then we began the crazy search for a Sprinter van. Mercedes rolled out an updated Sprinter platform for 2019 and we wanted to wait for the new vans to be released. We also wanted a four wheel drive diesel and so we ended up waiting a LONG time to actually acquire a van – but it was worth getting what we wanted and having the 2019 upgrades in the Sprinter platform.
Cooking up dinner outside our van
What adventures do you use your TOURIG for?
What don't we use it for?? Since COVID, it has been our social isolation escape module. We have camped on private property owned by friends, spent weekends camping locally with family, got away for a birthday trip to the beach and when the national parks opened up, we resumed camping in the parks and surrounding national forest and BLM lands. Over the next few months we have campground reservations up and down the California coast and we are looking forward to some fun surf days ahead! We intend to take even longer trips when Jeff retires in January!
What is the best place you have ever parked and why?
We have four favorites (so far)!
1) Defying Death in Death Valley (one photo… zoom in you can see the rig with the awning out. Jeff took the photo from the top of the road while he was on his mountain bike)… Our first real van trip we had camping reservations in Death Valley. The campgrounds closed due to COVID but I was determined to see the famous "racetrack". Google Maps would intermittently route the navigation through the saline valley side of Death Valley and on a 4×4 road to take us a back way to the racetrack. We headed this way and experienced a washboard road that was annoying but flat across the saline valley – and then we hit the drama. After the valley, the road takes a very sharp ascent. I am afraid of heights and was white knuckling it even at the lowest portion of this road. We passed a nice flat turnout and Jeff made some comment about how it would be a sweet camping spot as we drove right on past aiming to make it to the race track. About a half a mile from the turnout, our brand new van was wedged on a road that it had no business being on – there was significant washout on the right side of the already barely one lane steep rocky road and I had visions of tumbling our precious new Sprinter van over the cliff and that being the end. Thankfully, Jeff drives fire engines for a living and is not deathly afraid of heights. He calmly backed the rig down the hill and into the previously noted flat spot – where we camped for the night. I set up a chair and had a drink while reading a book and let my heartrate decrease. Jeff jumped on a mountain bike and biked the crazy, not appropriate for a Sprinter, (maybe only appropriate for motorcycles?), road up to the top and took pictures of the racetrack for me. This was one of my favorite camp spots because of the adventure attached. – and it was a beautiful perch over which we watched the valley for the night!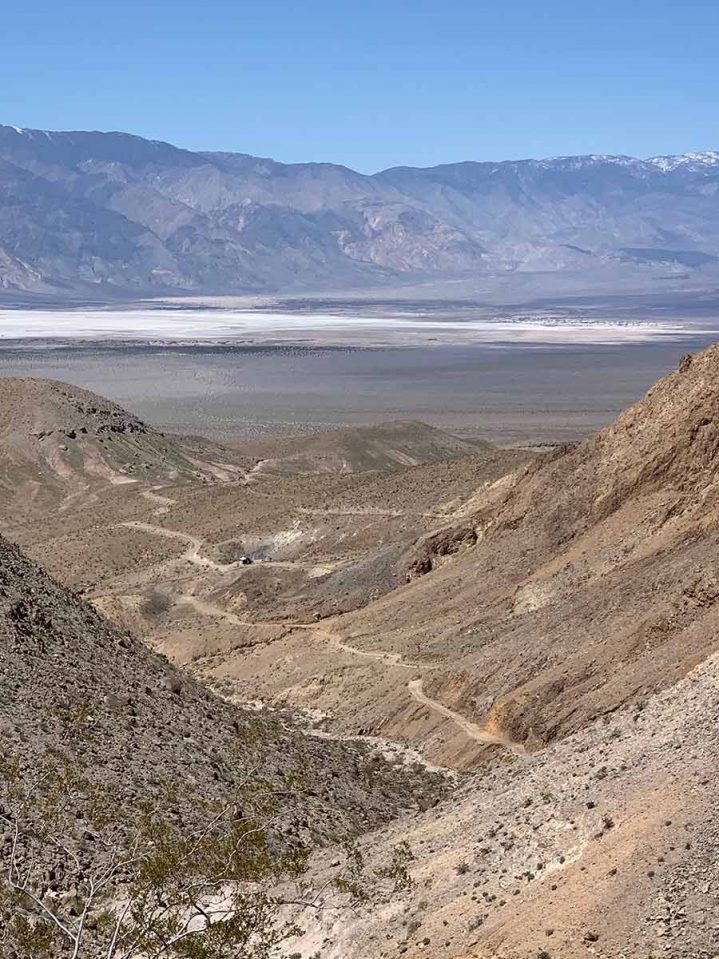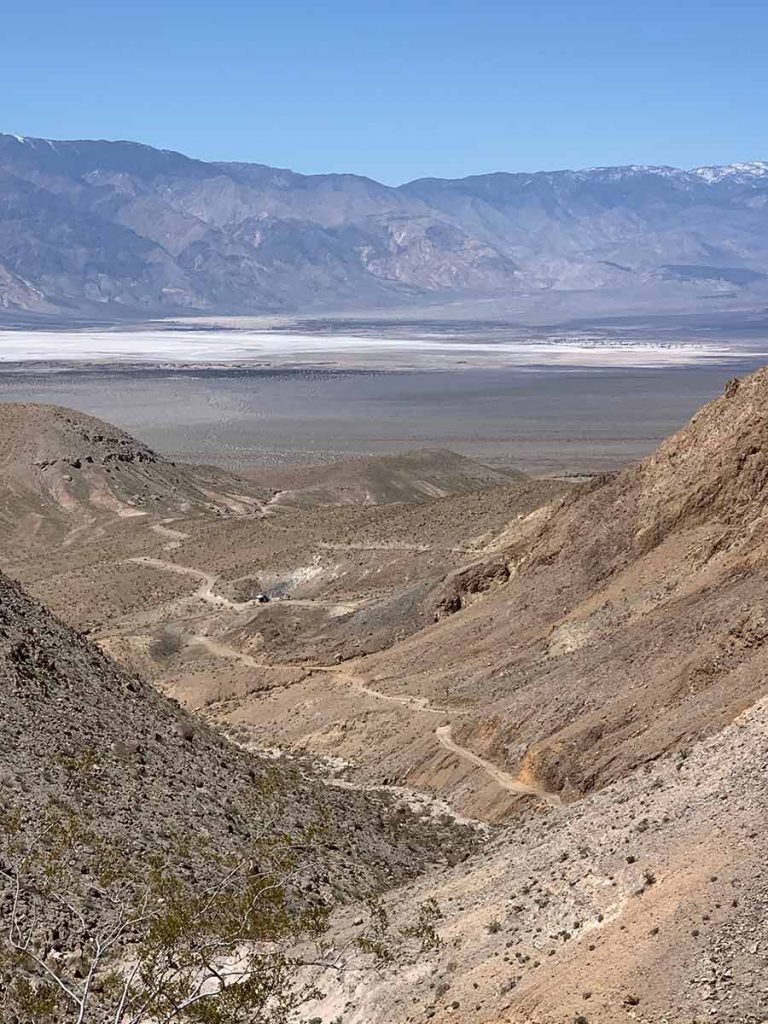 Camping in Death Valley, CA
2) Hiding out on friends Jake's – We had access to a slice of paradise up near Lassen National Park. Jeff's friend invited us to use their property for a getaway. We spent four nights camped next to a beautiful creek. It snowed, it was sunny and gorgeous, we experienced the entire spectrum of weater and remained comfortable and quite blissful in our perfect camp spot.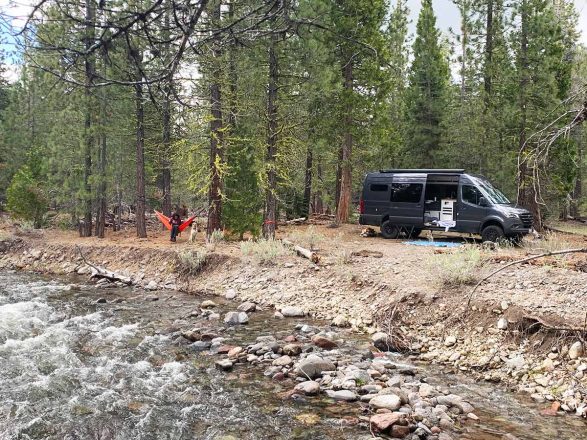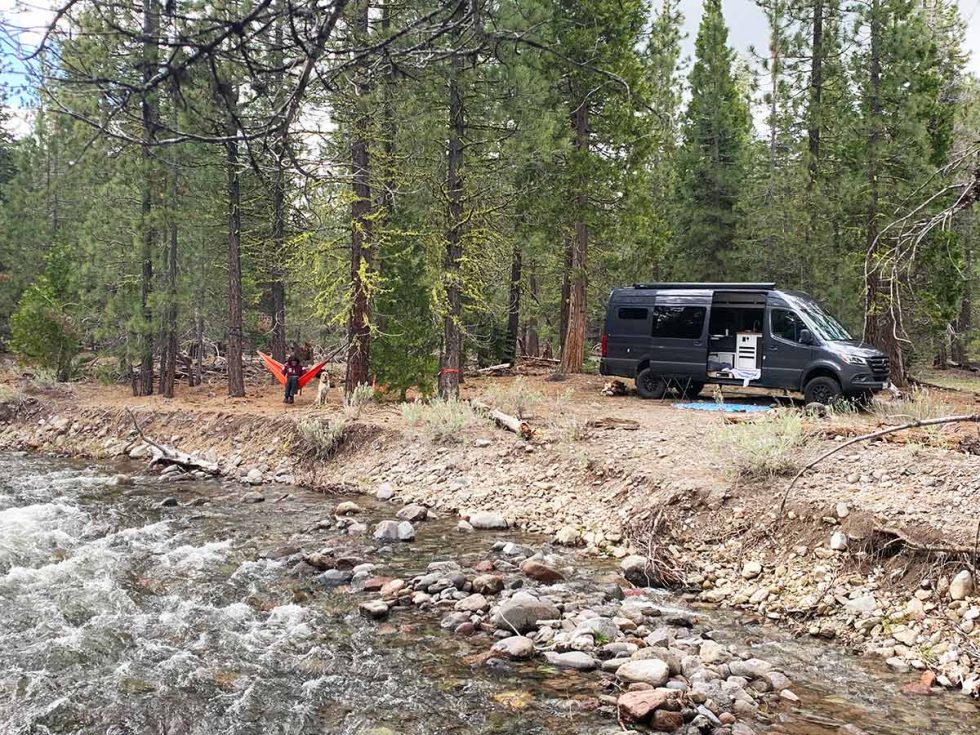 Camping next to the river near Lassen, CA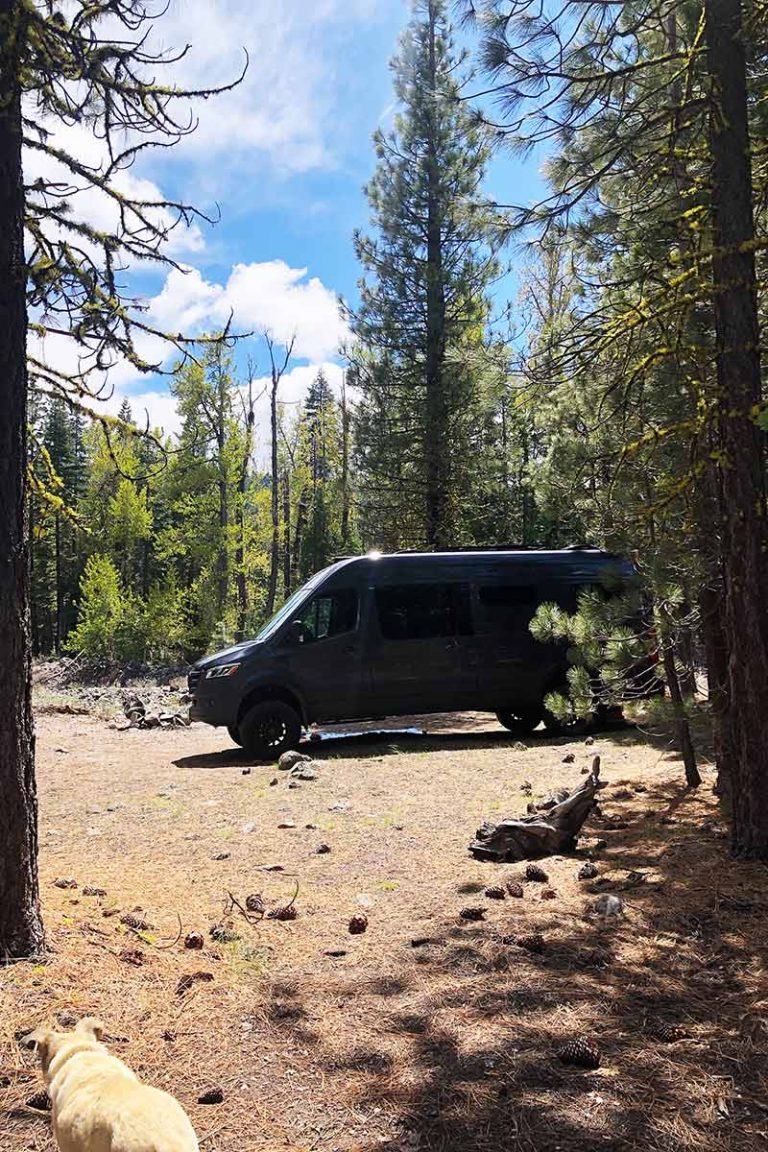 More beautiful views near Lassen
3) Close to home on West Camino Cielo – One of our favorite finds so far has been a camping spot close to home. We spent a glorious weekend with one of the girls and her boyfriend camping above Santa Barbara on Camino Cielo. There are many turnouts on this national forest land and we had a gorgeous view of the Channel Islands. It was a great boondocking spot, big enough for our rig, and Kinsley's Tacoma. We will definitely be back and hope to share spots like these with more friends when COVID allows.
4) Some hot springs we came across in  Mammoth. Seriously, what a great parking spot!!!!
Hot springs in Mammoth, CA
What is the best feature of your TOURIG?
That's a hard one to answer – Jeff says it's the TOURIG Airliner Cabinets. They have a simple aesthetic and are very functional, roomy and lightweight so the van isn't bogged down by the build. I say that Jeff's favorite feature is actually the garage – we have a 170 wheelbase so the garage space under our bed is huge!!! We can easily store bikes, surfboards, and all of our camping essentials, and even our extras with room to spare. I personally love the bed (super comfy) and the refrigerator (amazing capacity)!
Images left to right: 1) Sprinter 170″ garage 2) TOURIG Airliner Cabinets 3) Suzy enjoys the custom mattress in their Sprinter van
Where can people follow your adventure?
Instagram @youngatheartproject
Any advice for people out there considering getting a TOURIG?
We went through a few iterations of our van layout before we settled on the build we have now. Our biggest piece of advice is to NOT think of your van as a tiny home. When you are designing your van think of essential functions and don't worry about cramming every possible thing into the small platform.  We knew we wanted space inside the van. Jeff is tall and we wanted to be able to cook, change clothes and move around without falling all over each other or being trapped between cabinets. We wanted to be able to open our slider and extend our living space into the outdoors. In the end, we settled on a very open layout that we absolutely love. We have plenty of room to lounge in the van and we don't feel like we are missing anything. We do not have a bathroom in the van but a cassette toilet and a shower off the back which meets our needs perfectly. We have plenty of storage and have found ways to pack and shop for provisions efficiently. It is helpful to look at lots of vans and layouts and really envision functioning in the space.