GETTING THE MOST DEPENDABLE WIFI AND CELL RECEPTION ON THE ROAD
While we all love using our vans to get away from the grind, sometimes we still need to be connected. If you've heard about the benefits of having a cell phone signal booster in your rig but want to know more about what they are, how they work, and which cell boosters are going to be the best for van life, we've got you covered.
 After we review what they are and how they work, we'll share with you the models that we've found most reliable for our customers like WeRollWithIt. For van lifers like WeRollWithIt, who run their creative agency from on board, (learn more about WeRollWithIt here) having fast, reliable internet and cell reception is important.
Setting up a cell phone signal booster for your van
WHAT IS A CELL PHONE SIGNAL BOOSTER?
If you're finding yourself often in need of a stronger cell phone signal when you're on the road, a cell phone signal booster (also known as a cell phone repeater) might be the solution for you. Cell phone signal boosters work to strengthen cell phone receptions in a home, or in a vehicle like a TOURIG, putting an end to those frustrating dropped calls, hard-to-hear calls and slow internet speeds. They will boost receptions across all carriers like Verizon, Sprinter, AT&T and T-Mobile and all network speeds like 3G, 4G and LTE.
DOES A CELL PHONE SIGNAL BOOSTER ACTUALLY WORK? AND HOW?
Cell phone signal boosters work by taking weak cellular connections and essentially boosting them. Understanding the basic construction of the device makes it easier to understand how it works. The outside antenna on the device works to capture the weak cellular signal on your phone. The amplifier then takes that weak signal and boosts it up to 32X, and then the inside antenna redirects the stronger signal to your phone so that you can use it.
THE BEST CELL PHONE SIGNAL BOOSTERS FOR VAN LIFE
We've tested a bunch of different boosters over the years and know that not all are created equal. We've had great experiences with some and not so great with others. In order to save you the hassle of buying a set up that doesn't fit your needs, we wanted to share some of our recommendations based on what we've found to be the best cell phone signal boosters for working on the road.
CELL PHONE BOOSTERS WE RECOMMEND
1) weBoost 4G-X OTR
weBoost cell phone boosters work great in vans, trucks, rv's and other motorized vehicles. The company was the first to design signal boosters and have come out with some great boosters for different uses. We've had the best luck with the weBoost 4G-X OTR, which is their model designed for trucks (that works just as great for vans). WIth the right positioning, it can give an additional 2-3 bars of reception, and it will work on multiple cellular devices and for multiple users at the same time, so you can boost signals on your phone and your laptop, or your phone and someone else's phone, all at the same time. We've also found it to be great for using in more remote and rural areas, because its amplifier is designed to reach cell towers that are up to 33% farther away than other models can reach.
weBoost's best cell phone signal booster for vans, the 4G-X OTR
2) Rhino Rack Aerial Folding Bracket
WeRollWithIt recommends using The Rhino folding bracket along with the Drive 4G-X OTR. This allows for the super large truck antenna to flip up quickly when needed and lay flat across a roof rack when driving.
Rhino Rack Aerial Folding Bracket goes great with the Drive 4G-X OTR.
3) SureCall Fusion 2Go 3.0 RV
The other cell phone signal booster we recommend is a SureCall booster; it's a slightly lower price point and has a smaller antenna so you don't need to flip it up and down for use. SureCall is ready to go all the time. Much like the weBoost this device will amplify any available cell signal in the area. It'll boost cellular connections from all the same carriers as weBoost, and also works on multiple devices and with multiple users. It's meant to be hardwired or plugged into a cigarette lighter. TOURIG will hardwire this device behind a wall panel of your van so the device itself is hidden and you can easily turn it on or off by flipping a switch. We've had the best luck with the Fusion 2Go 3.0 RV, which is most comparable to the weBoost 4G-X OTR.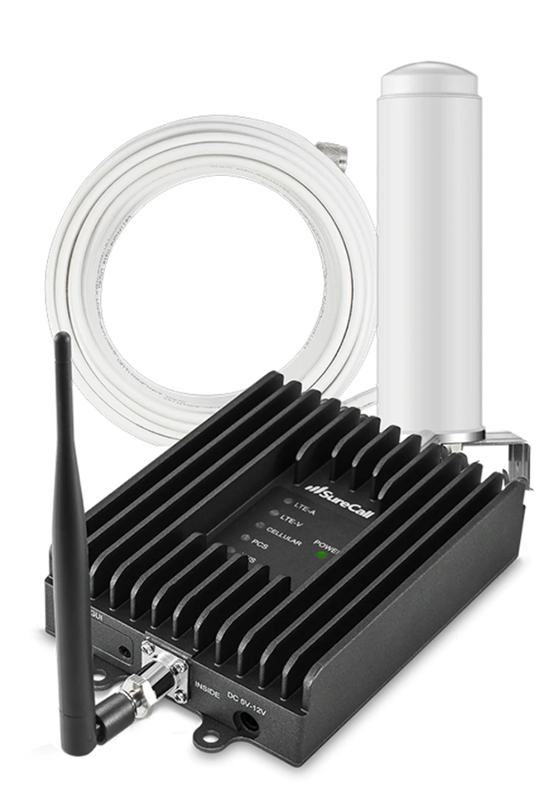 Another recommended booster for vans, the SureCall Fusion 2Go 3.0 RV
Another recommended booster for vans, the SureCall Fusion 2Go 3.0 RV
TIPS FOR GETTING THE BEST CELL PHONE SIGNAL WITH YOUR BOOSTER
#1) WeRollWithIt says that even with the booster, think about your position for best results. If you're tucked into trees or rocks be sure to park with the antenna facing out. This can make a huge difference in service. The less physical blocks that you have between your device and a cellular network, the stronger your signal will be.
#2) At TOURIG we set up the weBoost or the SureCall directly to DC power with a switch to be able to turn it completely off when not in use- because sometimes you really do want to disconnect!
#3) For Netflix users: Netflix allows you to change the quality settings of playback, if you pick the mid level you will get better results. Here's how to do that:
          -Sign in to Netflix.com.
          -Select the profile you'd like to change your data usage settings for.
          -Select Account.
          -Under My Profile, select Playback Settings.
Select your desired data usage setting.
Select Save. Your changes will take effect within 8 hours.
Enjoy your Netflix and chill in your van!