CAMPERVAN STORAGE IDEAS
Multi Use Pocket Table Description
Is it a table, or is it a pocket? Well, it's both! The Multi Use Pocket Table is a versatile and ingenious organizer that we find perfect for the rear doors of your camper van. When you're tinkering around in your camper van's garage trying to organize gear, perform bike maintenance, access tools, etc. it's always nice to have more surface space to work with. Unzip the Multi Use Pocket Table and a useful table folds out - a perfect waist high surface to sit and easily access tools or other items you're working with. With the table folded down you have complete access to the large mesh pocket that sits flush against the mounting surface. This pocket has enough space to hold a shower hose, cables, wires, microfiber cleaning cloths, and any other essentials you like to keep handy. These bags can be mounted anywhere there is a flat surface that will accept screws like rear doors, walls and the side of a cabinet. The back side of the bag has screw holes along the top and bottom. Easily mount this to any flat wall with a few self-tapping screws. The 300 Denier poly fabric is super durable and able to withstand a lot of use.
Tip: we love mounting the Multi Use Pocket Table to the lower half of one or two rear doors. To fully utilize your rear doors for storage, try adding a Medium Top Loader Pocket or Medium Zip Pocket above this! (See photo gallery for pictures of this). 
EASY INSTALL- Installs in little time to any flat surface with screws (not included).

  QUALITY ENGINEERED FABRIC
Our 300 Denier poly fabric is

durable and engineered to last

Solution dyed material 

doesn't fade over time

Extreme durability

 NO GLUES OR ADHESIVES
Eco-friendly construction

No glues or adhesives mean that 

nothing is bound together in a way that could break down over time

. In addition, it means there is 

no use of chemicals that would off-gas in your van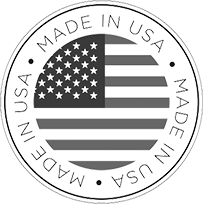 MADE IN THE USA
Quality manufactured

 window covers made by US workers with the finest materials and machines

Supporting local businesses, manufacturing and the US economy