LIVING LARGE WITH LIMITED SPACE (AKA IN YOUR VAN)
Van life is full of adventures, travel and spontaneity. But when space is limited and your home in on wheels, staying organized becomes utmost important to maximizing the lifestyle and the adventures. When you're constantly having trouble finding where you put things, or when your van space is cluttered and there just doesn't seem to be enough space for everything, life can get messy and frustrating. Streamlining and simplifying are keys to staying happy and organized.
Moving into a tiny space can have its challenges, but there are tricks to making your small space work for you. We caught up with Kate Field of WeRollWithIt to see how she and Levi keep tidy while living full time in their overland TOURIG, Bruce Banner.
TOURIG's Airliner Cabinets and wall mounted storage solutions help keep things tidy in the van
THE IMPORTANCE OF SIMPLIFYING IN YOUR CAMPER VAN
The first thing to think about when moving into a camper van whether full time or for a short trip is: 'do I really need that?' The longer we spend on the road the more I find myself happy with less. I look for versatility in everything from the clothes I wear to the gadgets I have in the kitchen. Everything on board needs a home. We can't leave things lying around while we off-road so if it doesn't fit in a cabinet or a storage bag it has to go! Be ruthless. Challenge yourself to only keep things that have multiple functions. Soon you'll love the simplicity of living with less.
STAYING ORGANIZED IN YOUR VAN
Speaking of things not lying around: we use a lot of TOURIG Bunker Bags for storage and it's incredible how much they hold. We have two on the seat boxes. One Bunker Bag holds all the dogs' play toys. (This is cute because the dogs will go to their pocket and pick a toy to play with.) The other Bunker Bag holds flip flops and a small brush which we use to sweep the floor.
In the bedroom area we both use TOURIG Medium Bunker Bags to keep our socks and underwear stored. Another tip for the small space: if it's something you need to use everyday make sure it's accessible or you will drive yourself crazy. That's why the pockets help so much because things can be easily accesible on the wall of the van but still out of the way.
Keep essentials organized and easily accessible with TOURIG's wall mounted Bunker Bags
Up front we have the TOURIG Covert Pocket Door Set (one on the passenger and one on driver side front door) and the Covert Stash Visors (one on each visor above the front seats). We work a lot as we drive so these pockets are great for holding chargers, external drives, cameras, memory cards, and anything else we need to get at regularly from the driver's seat. The Covert Stash Visor also has divider pockets for your wallet and vehicle paperwork.
Tip: keep essentials in the same spot every day. It's easy to get excited about the adventure but when you arrive at that perfect camp spot always remember to put your keys, wallet, and phone in the same spot before you jump out and bask in nature's glory – that way you won't ever lose the essentials.
Bonus tip: If you're a bit of a green thumb I have a sneaky tip for you. The TOURIG Canteen Cache makes a great plant holder! I put a plastic cup in the cache and leave an inch of water in the bottom. Then in the plants pot I use a string which threads out the base drain holes of the pot and will soak up water when needed to keep your travel plant happy.
TOURIG Canteen Cache used as a plant holder
In the garage we use TOURIG's Large Bunker Bags on each door and also on the sides of the water house. The Large Bunker Bags hold everything we need for filling water or using the hose downs.
Tip: keep like items grouped together. If you will use it for water, keep it near the water box, if it's an air accessory, keep it near the air chuck.
WHAT WE LOVE ABOUT TOURIG'S BUNKER SERIES STORAGE BAGS
What we love about TOURIG's storage solutions is that they're durable, lightweight, functional, and easy to use.Their low-profile design allows them to lay flat against the wall when they're not being used, and their expandable design allows them to hold a ton of gear!  They're quality products made in Minnesota (in the United States) by Knight Vision Development, established by one of the original founders of Granite Gear, a high end backpacking company. To see the full line of storage bags, click here. 
1) TOURIG Medium Bunker Bag
2) TOURIG Large Bunker Bag
3) TOURIG Covert Stash Visor
4) TOURIG Covert Stash Front Door Pocket Set
KEEPING YOUR CAMPER VAN CLEAN
Here's something you won't learn about van life from beautiful instagram images but I'm here to tell you: the floor always needs sweeping! All that adventure seems to somehow stick to your feet and gets trampled into the van. If you have pets or kids, all the more so. But don't be deterred, that small floorspace takes just seconds to clean! I keep a small brush to sweep everything out and I usually do that on arrival at a new spot and also each night before bed. Another super handy tool for corners or tight spaces is a Milwaulkee M12 cordless vacuum. It uses 12V rechargeable batteries and is a great small item with plenty of suction power.
The Milwaulkee M12 cordless vacuum keeps the van's living space clean
MAKING SPACE FOR ALL YOUR GEAR IN THE VAN
 We like to have plenty of toys on board to explore the outdoors. But how do we fit them all? Again, it's about making smart choices and picking gear that will stow away and stay organized.
Choose Inflatable Options
For water fun we use an inflatable Rover from Bote Boards. It's a skiff; it's a dingy; it's a tender; it's a motorized inflatable paddle board. It's a BOTE…in a bag. Inflatable products are great for van life because they pack up and slide into the garage easily.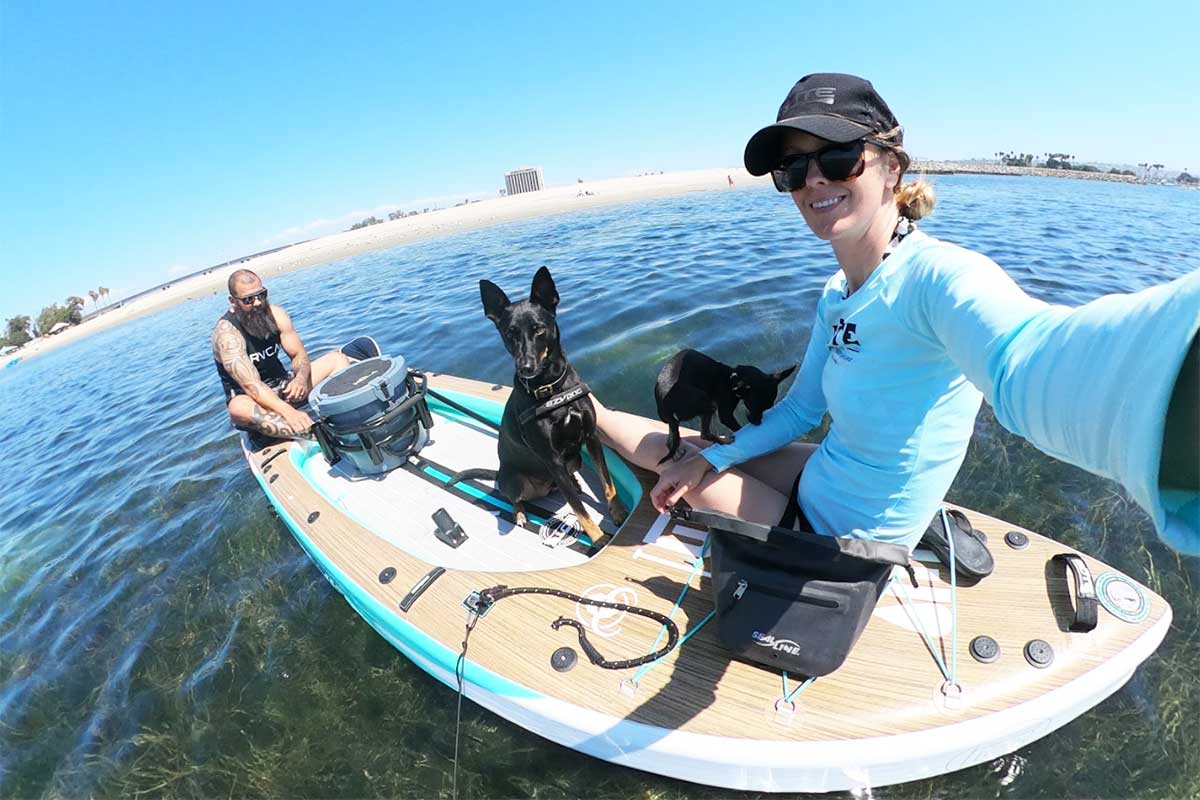 Inflatable paddle boards are always a good time! Plus, they're easy to store and don't take up much space in the van.
Fitting Bikes on Board
We also have two CAB Motorworks EMX bikes on board. Although I love dirt bikes, they take up a lot of space and weight. With these full throttle e-bikes we can go just as fast (top speeds of 50 mph) and the 200 mile range is more than enough to wear us out. All this, plus the ability to charge right from the van's house power system and no need to carry additional fuel. Our two e-bikes fit nicely into our rear storage garage with Rocky Mount's bike mount system.
E-bikes store easily in the van's rear storage garage with Rocky Mount's bike mount
GETTING THE MOST OUT OF VAN LIFE
The most important thing to remember about these tiny adventure homes on wheels is that we don't live in them, we live out of them! By simpliflying the number of things you bring, and having a designated home for everything, you can make van life more organized and more fun.