TOURIG MOVES TO A NEW STATE-OF-THE-ART FACILITY IN GOLDEN, COLORADO
In May 2020, we moved into a brand new, custom built, top-of-the-line facility on the other side of town in Golden, Colorado. The move was long-awaited and much needed, allowing the company to double the size of their facility and double their production capacity. Over the past few years we've nearly doubled our staff and our business, and quickly outgrown the space we were in.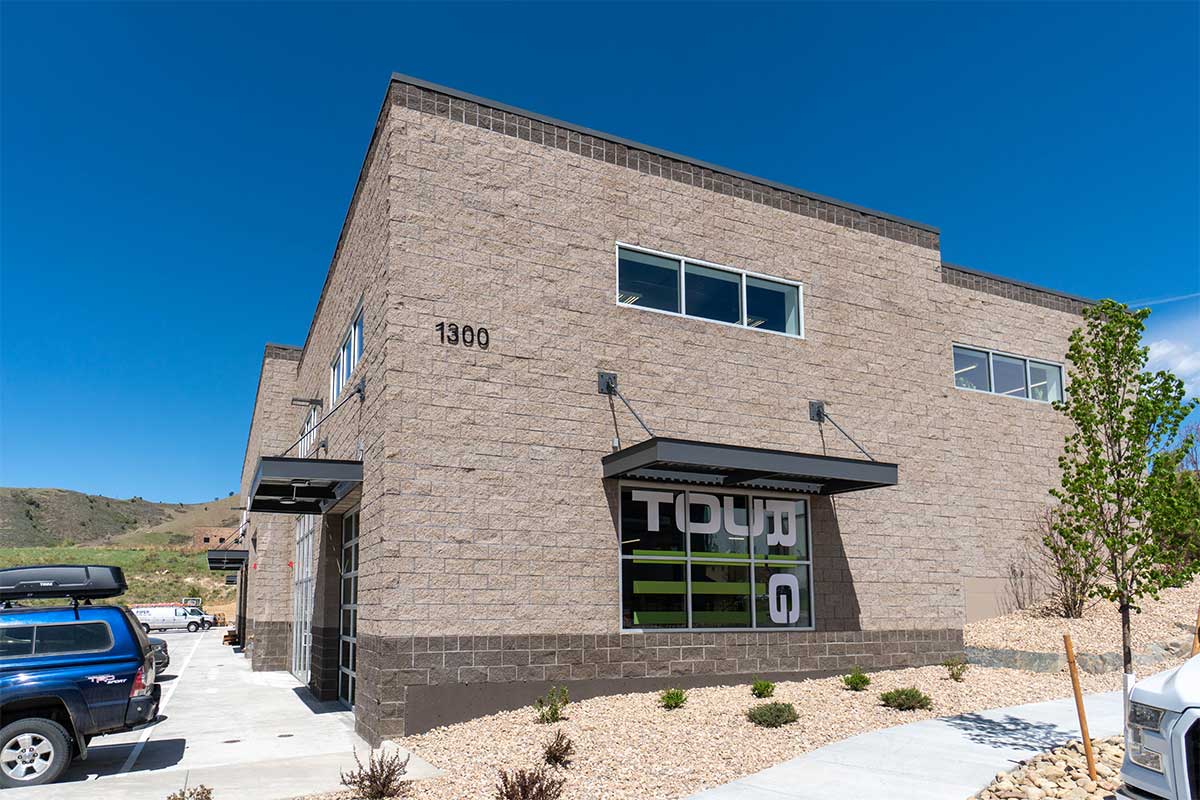 TOURIG's new facility in Golden, CO
THE NEED FOR A BIGGER CUSTOM VAN BUILD SHOP
With the company's projected growth in mind, we knew we'd need a bigger home. TOURIG co-founders Eric Miller and Paul Bulger quickly began working with Edge Construction to craft the perfect new space to call home. With the help of Edge, TOURIG landed the perfect custom finished spec shell at the cornerstone of a five building brickyard industrial park. The location couldn't be more fitting- surrounded by open space and mountain trails in a custom auto-centric industrial business park. With neighbors like Gunslinger Custom Paint, Trail Jeeps, Slee Off-Road, Mountainsmith and more, the company is close to a lot of like-minded off-road and outdoor oriented brands. It's also conveniently located just 20 minutes from Denver, 30 minutes from Boulder, and 40 minutes from the Denver International Airport- so it's easy for customers to fly in and out, or get to from the Front Range.
Our new location is surrounded by open space and mountain trails
THE PERFECT LOCATION
The new shop is located between North Table Mountain, White Ranch and Golden Gate Canyon, making for incredible office views and plenty of trails to bike, hike, and run on a lunch break or after work. There's also a crossfit gym and bouldering gym right nearby. And did we mention that Holidaily Brewing is right around the corner?
The new building itself is a blocked structure cement built into the hillside. It's surrounded by a concrete parking lot with lots more room to fit custom rigs both in and outside the shop. The facility is twice the size of the old and boasts 26 foot tall office and shop ceilings, big open windows overlooking the mountains and all the amenities they could dream of. With a 12,000 square foot shop with six bays, we can put 15 vans in the shop at once (versus seven at the old shop). And since Miller and Bulger got to design the space to meet the needs of the company, they were able to lay out everything they way they wanted for a van customization shop: with designated spaces and amenities for metal fabrication, wood fabrication, suspensions, an indoor wash down bay, shipping and receiving area, and a loading dock and fork lift- build exactly to their liking.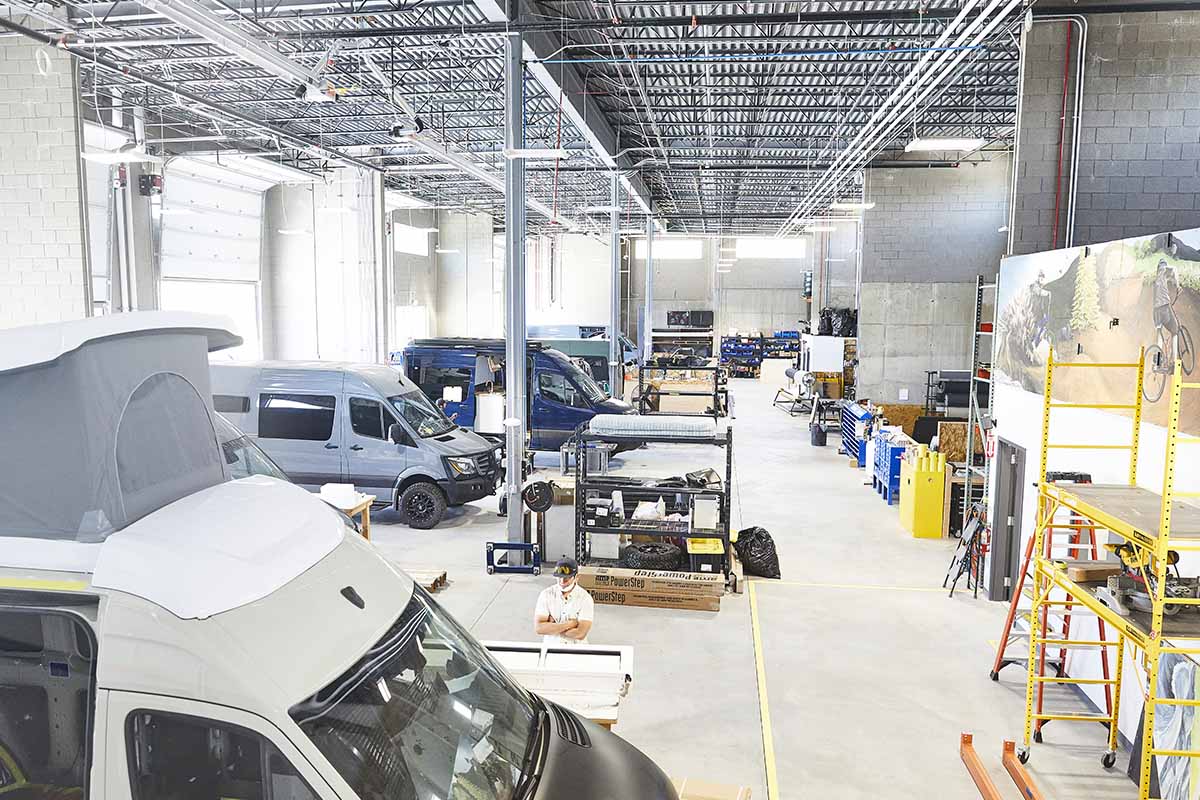 The new custom designed shop
There's also a two thousand square foot office featuring a showroom (with an additional bay) and a lot more room for the growing staff. The showroom allows the sales team to have a designated space to showcase finished vans for customer pick-up. "Depending on how elaborate the systems are, we spend two to four hours with a customer during their pick-up to walk through the rig and ensure they're familiar with all the features and functions of their custom van build. It'll be especially great in winter to not have to do this in the busy shop, and have a clean, quiet, designated spot to walk them through their buildout", says Paul Bulger, Co-founder and CPO.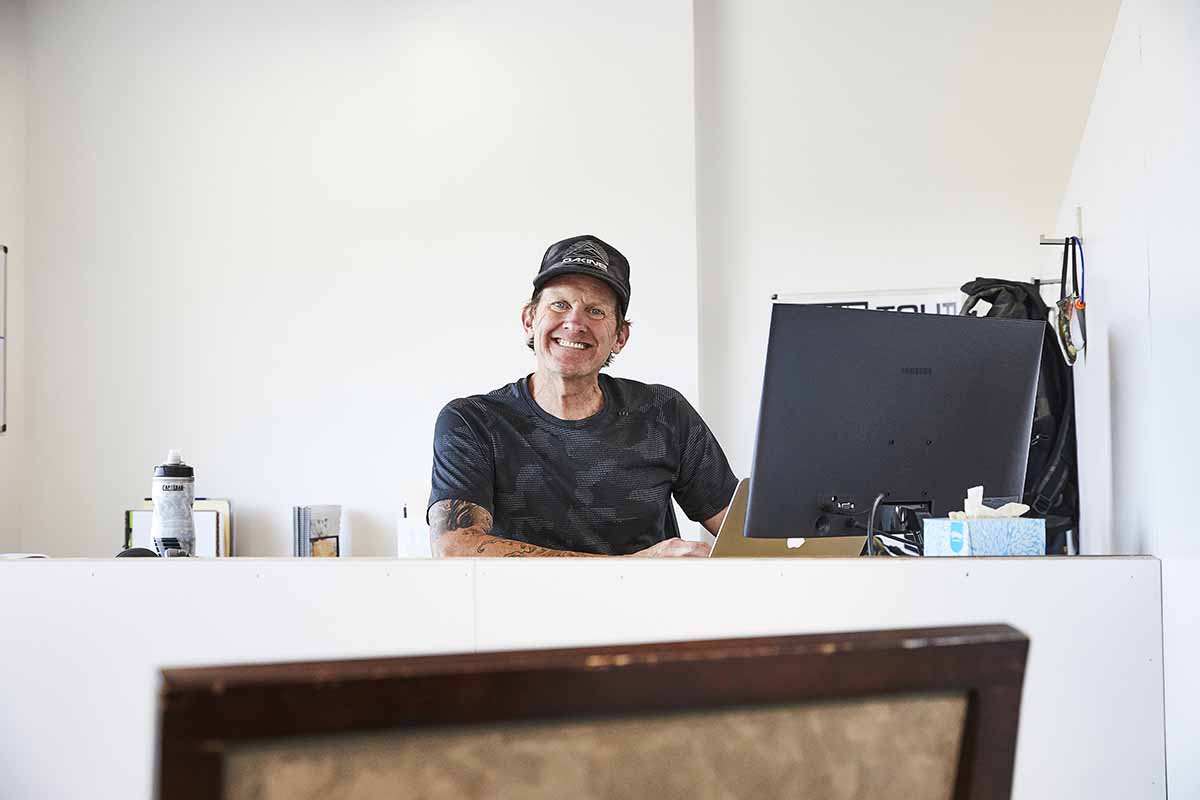 Co-Founder and CEO, Eric Miller, in the new office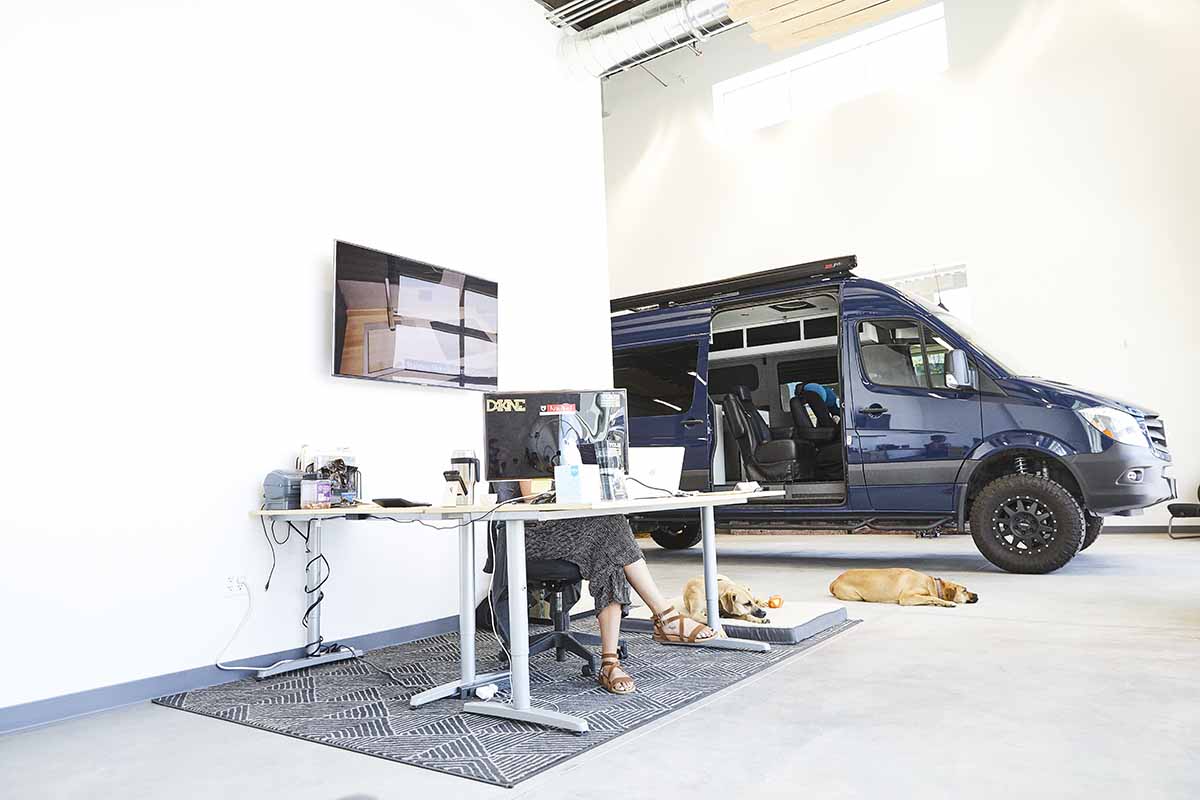 Other amenities include a break room, two kitchens and five bathrooms (including a full bathroom for employees to shower). As a green business, they wanted high efficiency LED lighting and heating, a designated recycling facility, and lots of other environmentally-friendly practices in mind. 
Having the extra space has allowed the company to already hire two new employees, and more down the road. The new facility is in an ideal location and with all the room and resources for TOURIG to continue to grow as they see more and more demand for custom van build outs.
There's More Tips, Tricks & Stories Here