THE FIRST AID KIT EVERY CAMPER VAN SHOULD HAVE
We recently partnered with Outer Limit Supply to bring to you the ideal first aid kit for your camper van. Outer Limit Supply is a firefighter-owned company; they're wilderness medicine experts and they know what you need for every backcountry trip. (Learn more about them here). These practical, user-friendly first aid kits contain everything you could ever need for any minor cut to major trauma or bleeding on the road or in the backcountry. Additionally, they have a standing policy that if one of their kits is used to save a life they will replace the supplies free of charge! We here at TOURIG want you to adventure confidently knowing that you are prepared for the worst, and with the help of Outer Supply we're confident we can make that happen.
For these reasons, all TOURIG builds now include a first aid kit by Outer Limit Supply.
For those of you with older model TOURIGs or personal rigs of any kind, TOURIG First Aid Kits will also be available for purchase online here.
WHAT'S INSIDE: EVERYTHING YOU NEED
Inside you will find the kit filled with items for a variety of injuries and life-threatening emergencies (ie, splinters, headaches, busted knuckles, diabetic needs, CPR, trauma, and loss of blood).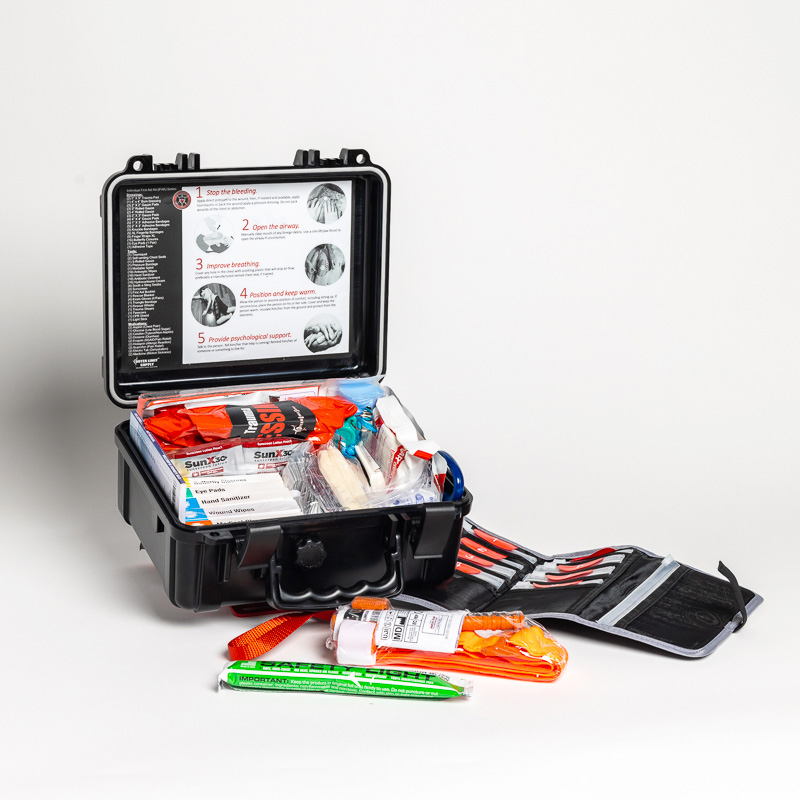 Here's a list of everything that's included:
Dressings:
(2) 5"x9" Trauma Pad
(1) 4" x 4" Burn Dressing
(3) 2" x 2" Gauze Pads
(3) 3″ Rolled Gauze
(2) 4" Rolled Gauze
(3) 3" x 3" Gauze Pads
(3) 4" x 4" Gauze Pads
(5) 1" x 3" Adhesive Bandages
(5) 2" x 3" Adhesive Bandages
(5) Knuckle Bandages
(5) Fingertip XL Bandages
(5) Finger XL Wraps
(16) Butterfly Closures
(1) Eye Pads (1 Pair)
(1) Adhesive Tape
Tools:
(1) Tourniquet
(2) Self Venting Chest Seals
(1) S-Rolled Gauze
(1) Pressure Bandage
(1) Moldable Splint
(10) Antiseptic Wipes
(10) Hand Sanitizer
(10) Antibiotic Ointment Packets
(10) Hydrocortisone Cream Packets
(4) Sooth a Sting Swabs
(2) Sunscreen
(1) First Aid Booklet
(1) Rescue Blanket
(4) Exam Gloves (4 pair)
(1) Triangle Bandage
(1) Rescue Whistle
(1) Trauma Shears
(1) Tweezers
(1) CPR Shield
(1) Light Stick
Medications:
(2) Aspirin (Chest Pain)
(1) Glucose Tube (Low Blood Sugar)
(2) Cetafen Extra Strength (Non-Aspirin)
(2) Diotame (Diarrhea)
(2) Exaprin (Pain Relief)
(2) Histaprin (Allergic Reaction)
(2) Ibuprofen (Pain Relief)
(2) Electro Tab (Dehydration)
(2) Meclizine (Motion Sickness)
WHAT TO DO WITH YOUR KIT
When you first get your kit we strongly recommend that you familiarize yourself with the kit's contents. To encourage this, we ask that you take a moment to short & organize the medication pack found inside. There is a convenient reference card that lists the medication name, what it's used for, and the corresponding pouch that it should reside in. BTW, the backside of that reference card also has all of the questions that an Emergency Provider will ask in the case of an emergency.
The kit also includes a Quick Release Mounting System allowing you to mount your First Aid Kit in an easy to access location.
Go prepared for anything and stay safe out there!
Rear side of First Aid Kit with wall mounting bracket (included)