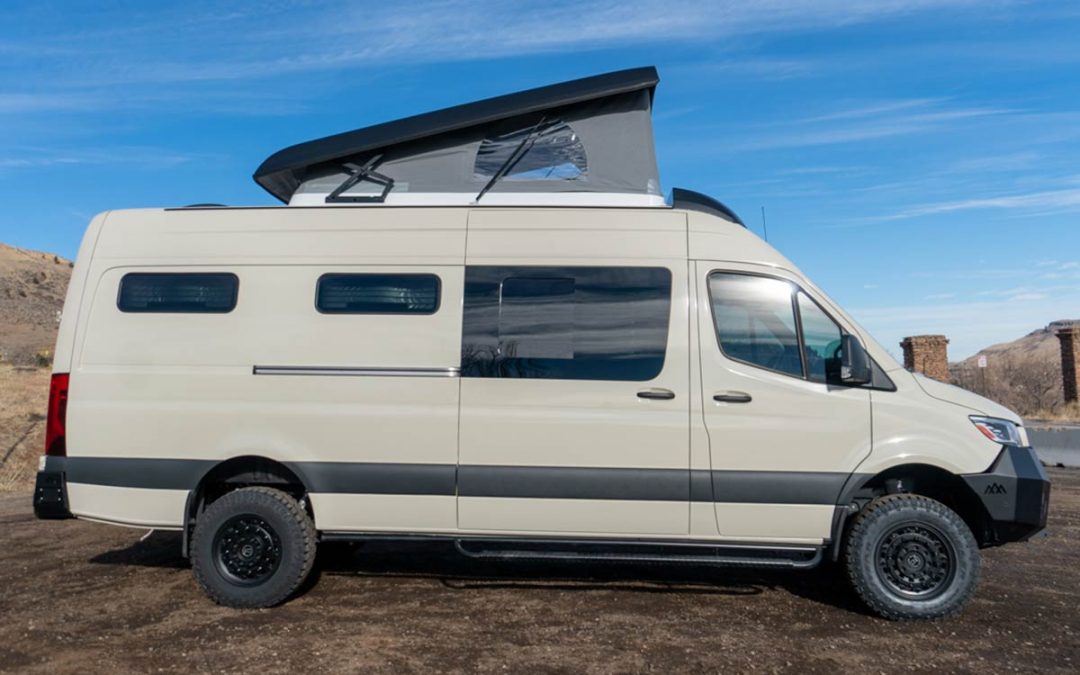 Why is the Trooper Layout TOURIG's Most Popular Family Van?
Figuring out the best way to utilize space in a Sprinter van can be tricky, especially if you're hauling the whole family. It is easy to become dizzy and overwhelmed by the sheer volume of information online, making it hard to know where to start. TOURIG's Trooper layout has solved these puzzles for you; keep reading to find out how!  
Seating 4-5 people when Choosing a Van Conversion Layout
A well designed van conversion layout includes the driver and passenger seats in the upper cab, with two to three additional seat belts in the front quarter of the van. For your additional seating, you can choose from a Mercedes bench seat (two or three person), executive captain's chairs, top-of-the-line Scheel-Mann captain's chairs, or modular/removable seating using a SmartFloor.  
TOURIG's most popular layout with families is our versatile Trooper layout, a four to five person design made for a Mercedes Sprinter 170 or 170 extended wheelbase. With so many seating options available, speaking with your experienced TOURIG representative will give you knowledgeable information on what would work best for your lifestyle and seating requirements.  
Scheel-Mann, Vario F Captain's Chairs
SmartSeat Modular Seating
Amenities and Systems for the TOURIG Trooper Conversion
Every family has a different intention on how they will use their TOURIG Trooper, but almost everyone will need water, cooking, and sleeping capacities. We've got you covered there, too!  
The Trooper usually features a split galley with a sink cabinet on the slider door side and cooktop/fridge on the driver side. This split galley layout gives you the functionality of a passthrough/walkway in the middle quarter of the van. This is great for running back to grab a snack or to refill your water bottle during a long road trip.  TOURIG also creates our own line of soft bags and cupholders to ease your kitchen storage needs while on the road.
Typically, TOURIG installs a 130L fridge unit, but these can be customized with fridge/freezer drawers, or an 85L fridge to gain some drawer storage space. TOURIG uses induction cooktops as they are the safest product for this application. Induction cooktops use magnetic heat sources, so when a pan is not detected, the heat shuts itself off. The sink cabinet also has a "washdown" point on it, so you have the ability to hook up your shower hose and set up your TOURIG portable shower. This added function is best for cold days when you might not want to use your rear washdown point for an exterior shower.  
Split Galley Fridge and Cooktop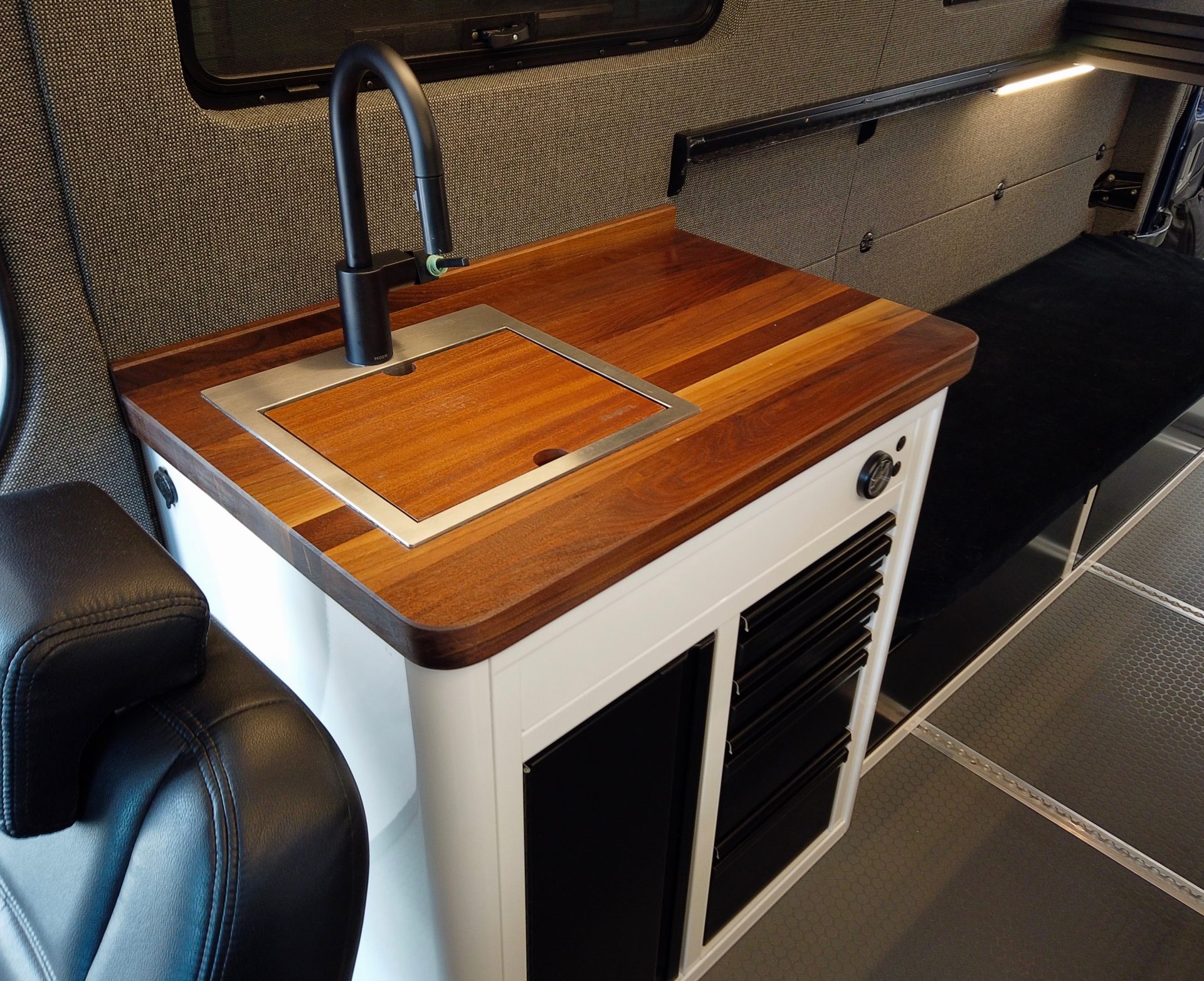 Spilt Galley Sink and Storage 
Sleeping Arrangements in a Family Sprinter Van
The Trooper excels at sleeping all of your family members. TOURIG's modular bed system is simplistic yet durable. Your primary upper bed rests on sturdy bed rails, and can be fully removed from the vehicle or stacked to create useable space. Simply remove the thumb screws at either end of each panel and lift to stack. Don't worry, they are perforated with our signature hex design so they aren't too heavy. This is also another function of versatility too, you can hang whatever you might need off your perforated bed panels (think wet clothes, skis and poles, etc.).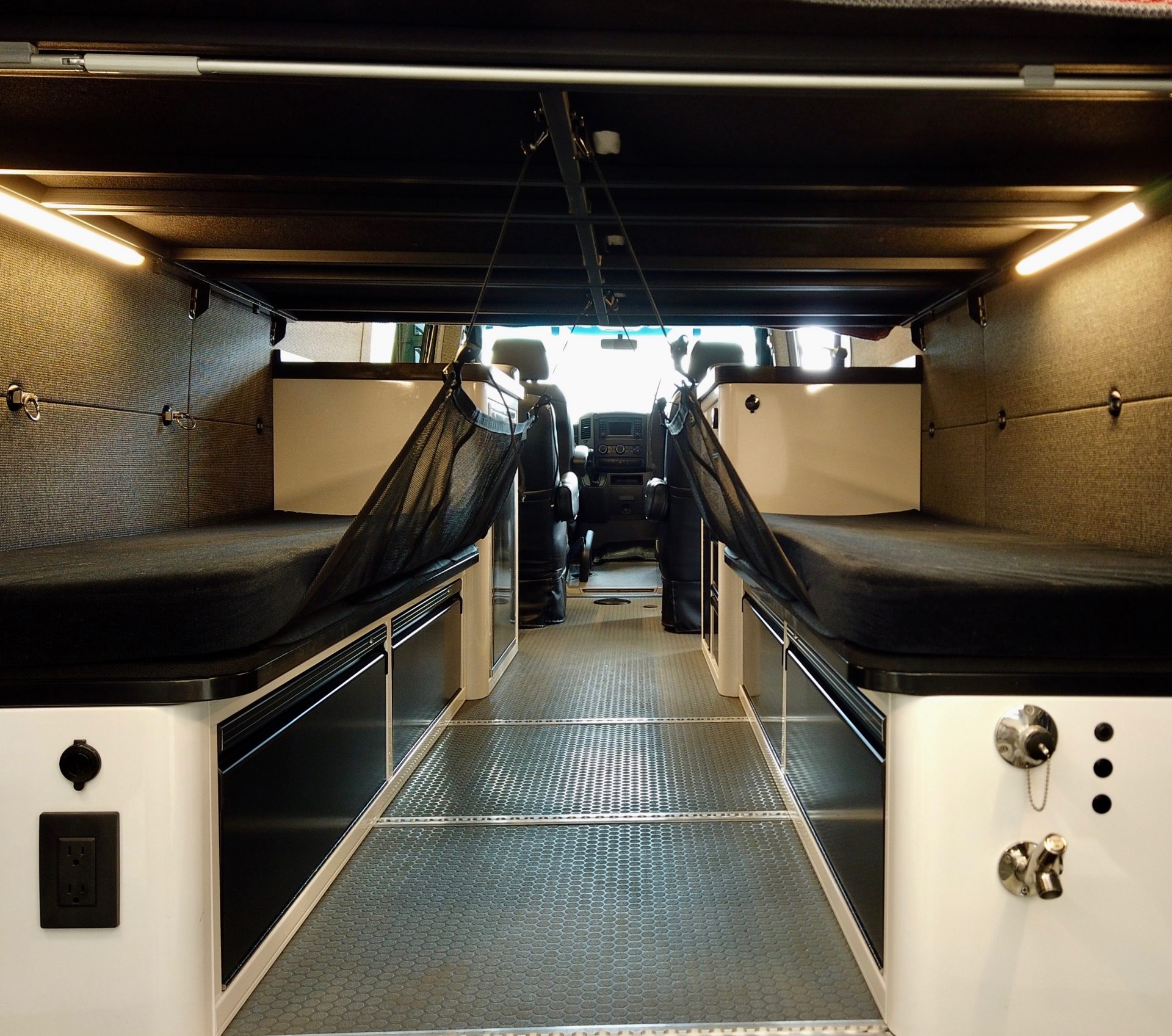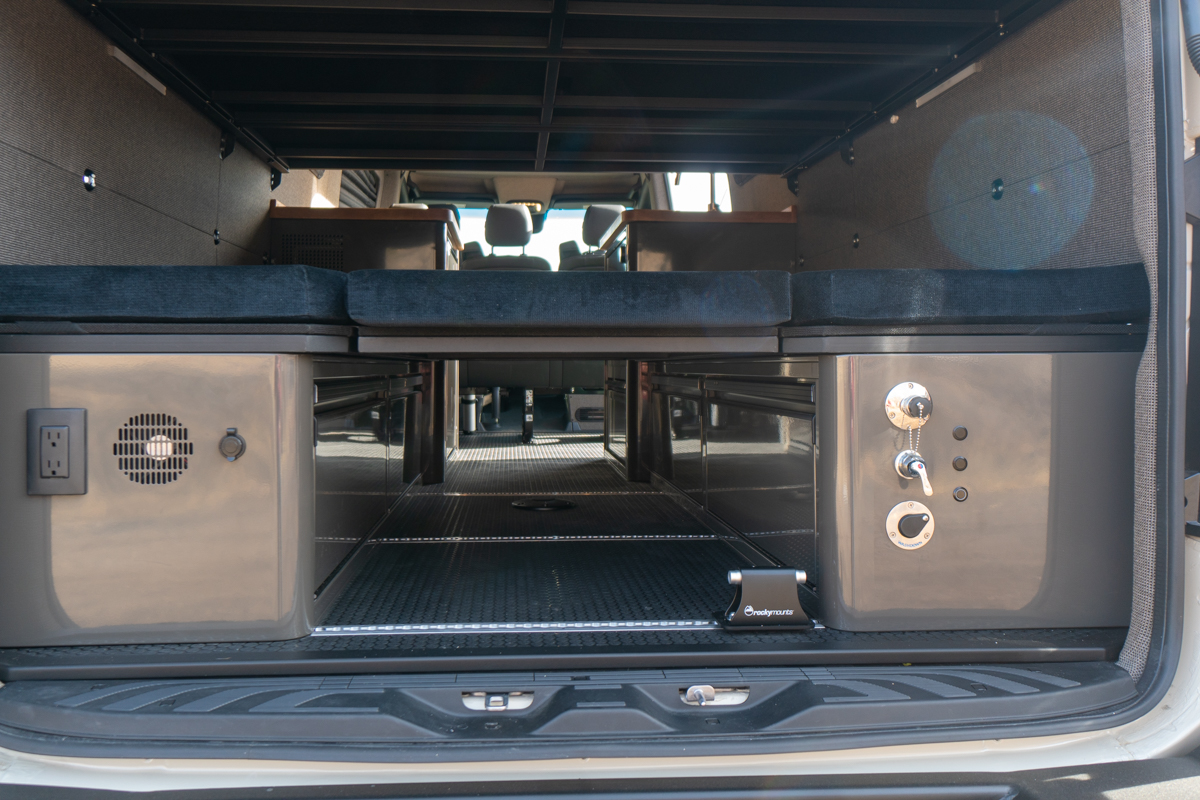 Lower Bunk Configurations
Upper and Lower Bunk Style
The lower bunk can sleep two, or you can add your middle bed panels to create another Olympic Queen sized bed below your primary sleeping area. If that isn't enough space for your crew, TOURIG can install a pop top on the roof to fully maximize the amount of beds in your RIG. Our pop top packages come with lighting, additional heating, and even power outlets! With a pop top, that would bring your sleeping total up to 6, or more if you are hauling small humans.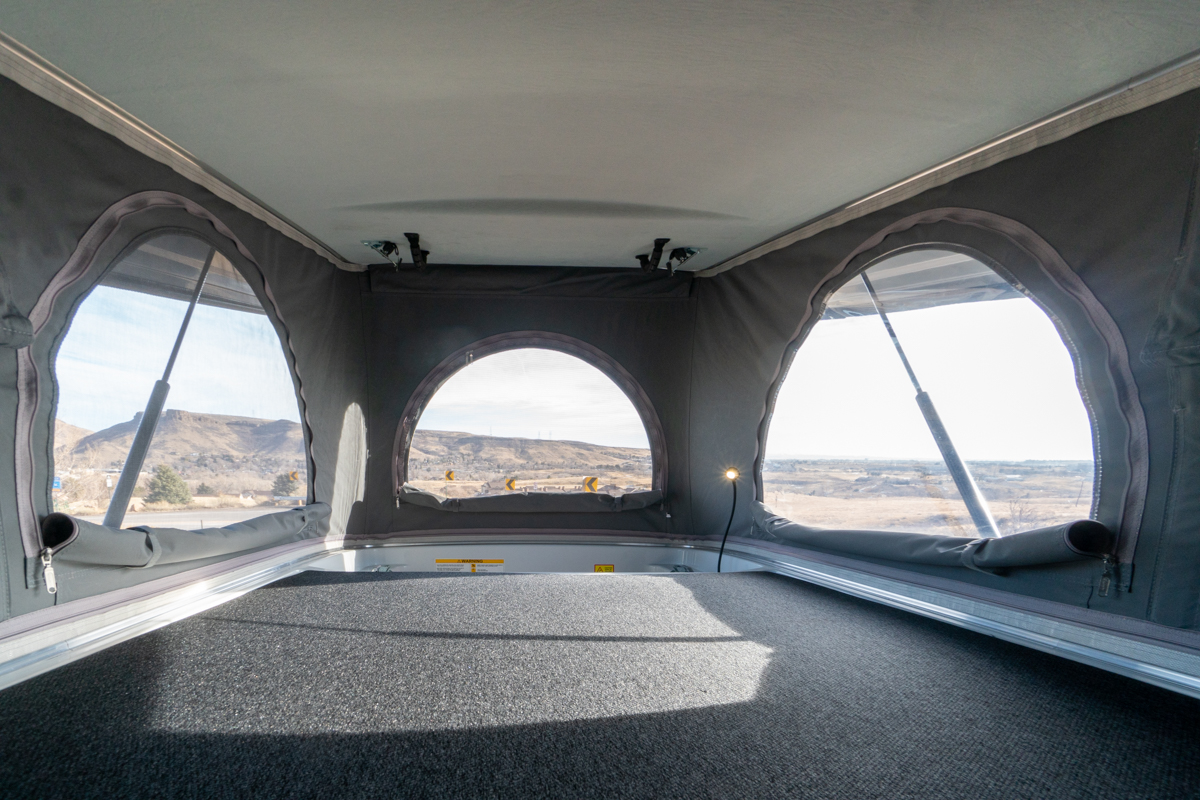 Providing Space to Create Family Memories 
Beyond all of the listed functions the Trooper brings to the table, every TOURIG comes with a portable cassette toilet, lithium batteries, roof mounted and interior ventilation, a cell booster, black out window covers, screens and a three layer insulation package, among many other features and options. 
But, what makes the Trooper our most popular is the versatility it provides for large groups. At the ski lot getting ready for first chair? Everyone can pile in, after you have stacked your primary bed panels, and gather around your spacious dinette in the rear quarter of the van. Throw up your table (or two!) and crank the heat. Family and friends can play cards, drink cocoa, and keep their toes warm until you're ready to go hit the slopes!   
Upper Quater Trooper Dinette
This dinette feature is useful for many different situations; tailgating, parking lot parties, rainy days at camp, working from the road, or just separating the space to keep everyone sane.  
How do I get a TOURIG Trooper?
Ready to build yours? To get started, reach out to a TOURIG team member. Get ready to make endless memories in your new RIG! We can't wait to hear from you!  
There's More More Tips, Tricks & Stories Here