Meet the Makers of Our Camper Van Accessories
Having the right window covers and accessories to outfit a camper van are just as important as having the right van; they all have essential functions to perform. We believe in choosing the right people and the right products to compliment the industry leading quality that our vans command.
In this article you'll learn about the makers of our soft goods and hear the story behind them. A few years back we featured a video tour of our soft goods manufacturing facility to give you a first-hand look at how they're made. Today you'll learn more about the guys that make each window cover, screen door and storage solution unique.
The History of Our Van Accessories Line
Our history with our soft goods manufacturer long precedes TOURIG's origins. Eric Miller, co-founder of TOURIG, and Jeff Knight, an outdoor industry legend, worked amongst one another in the outdoor industry for more than two decades. Knight was co-founder and designer of Granite Gear, an internationally respected brand known for building incredible backpacks and packing systems for outdoor enthusiasts. Around that same time, Miller was pioneering a sales rep agency that represented a myriad of outdoor brands in the Rockies. The two became good friends, working and recreating in the industry together. Little did they know at the time, they would cross paths again in another dimension.

A few TOURIG camper van accessories: bug screens, accordion window covers, collapsible soft cabinets and storage bags.
All Good Things Come to An End…Or Do They?
After twenty-seven years at Granite Gear, Knight parted ways to embark upon a new adventure starting a manufacturing business of his own, KnightVision Development, just a town over from he and his wife Lisa's home in Two Harbors, Minnesota. By this time, Miller had established TOURIG in Golden, Colorado and was building high-end camper vans to "encourage the spirit of adventure." It wasn't long before Miller saw the need to offer essential soft goods like window covers and bug screens to his customers. "Window covers and bug screens are essential to the van experience. The experience just isn't the same without them", he says. He wanted to make a product that met the same quality standards of his camper vans, and the first manufacturer and designer he thought of was Knight.
Knight's history in the outdoor industry and his knack for designing innovative and functional outdoor gear made him an ideal cohort for a manufacturing and product design partner. (It also doesn't hurt to have a designer / manufacturer that owns a TOURIG van and field tests the products in harsh environments as much as we do!) Miller called him up to see if he'd be interested in working together again and the rest is history.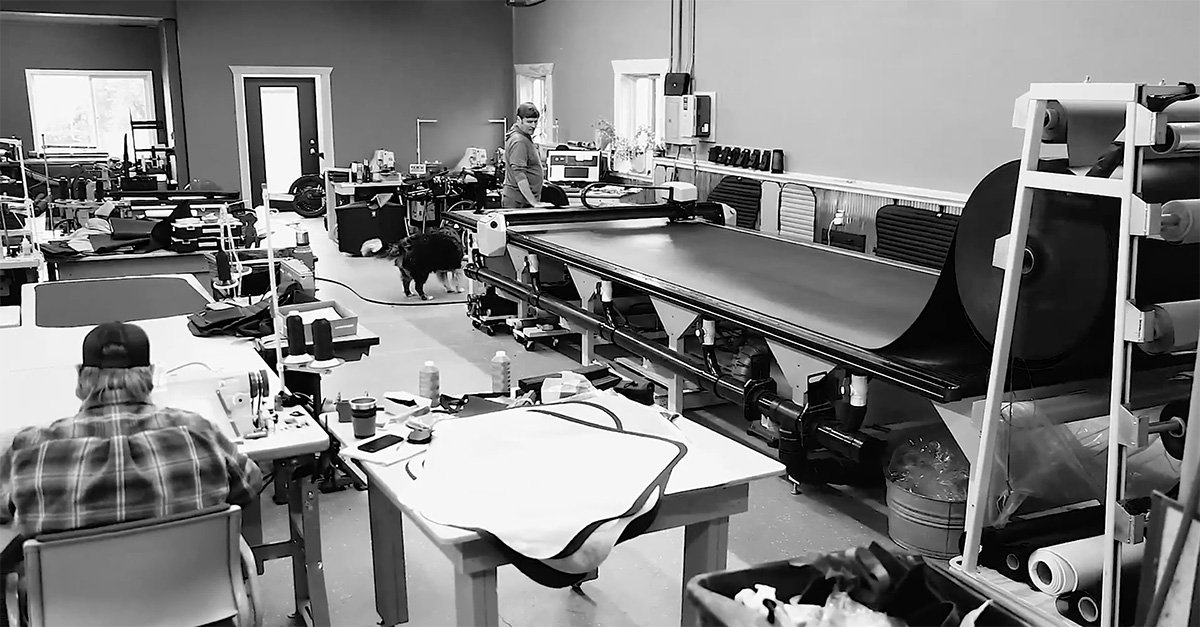 KnightVision manufacturing headquarters in Minnesota
KnightVision's Manufacturing Innovation and Expertise
When speaking about why he wanted to work with Knight, Miller says "Jeff has more than thirty-five years of production and design experience, which shows in the products he makes. He has the vision to design new, innovative products that our customers are looking for." Like TOURIG, he also believes that people are an integral part of a company. He's relationship oriented and has built strong ties with some of the best material manufacturers in the industry. Jeff understands the performance we look for in our products and which materials are best suited for the job. (Speaking of relationships, while Jeff was in town to interview with me for this article, he and his wife, Lisa, made a point to have breakfast with a material supplier they'd known in the outdoor industry since their 24-year-old son was a toddler)!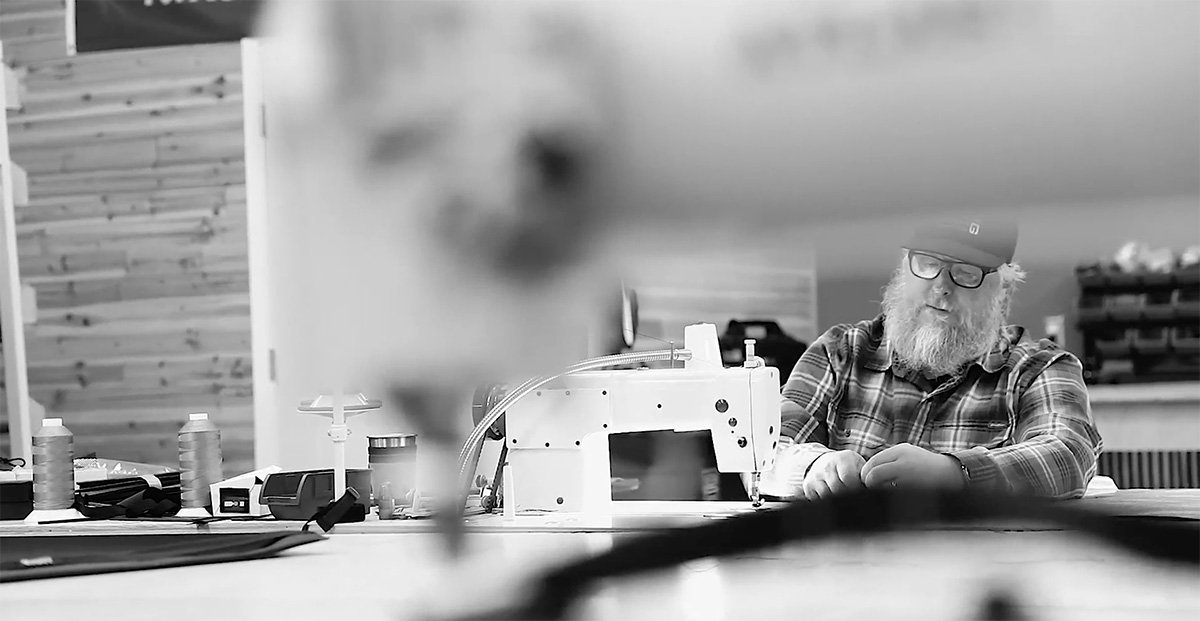 Craftsmanship that goes into each and every TOURIG window cover
Miller and Knight both wanted to design camper van accessories that not only perform but are also visually appealing. "I've always wanted form to follow function", says Knight. "And usually, you end up with a product that looks good when you do that, he says. Like TOURIG, Knight is driven to make things look crisp, clean, polished, and professionally done. And knowing how to do that takes time and practice – knowing the equipment you need to sew certain products, accessing the right suppliers to ensure you have the right materials, and understanding the principles of each material and how they'll work together. For example, when looking for the right insulation, he opted for a very consistent insulation that he could get from a US supplier he's known for over thirty years. "We wanted something soft enough to the touch but with enough rigidity that we could pull it through the sleeves in the manufacturing process. It also had to be something that would hold its structure and integrity over time."
The Need for Quality Manufacturing and Functional Design
Since KnightVision was established in 2015, Knight and his team of local sewers have been using the finest machines and materials to make our window covers and other soft goods like storage pockets, organizers, collapsible cabinets and bug screens. And by manufacturing the products themselves, the manufacturing and design expertise show up in the products they make. With decades of experience in the industry, Knight confidently says "We have played the foreign production game and we know what it's like and we know what it involves; we like having more control over our production, where supplies are coming from, etc. Obviously, we still face supply chain challenges like a lot of people are in manufacturing, but we have that nimbleness as a company which allows us to quickly make changes when needed…I think that supporting US manufacturing and keeping it going is a good thing."
Precision and detail, manufacturing an accordion style window cover
Since 2015, KnightVision Development has been the designer and manufacturer of all our window covers, bug screens, storage pockets and soft cabinets in Two Harbors, Minnesota. We feel fortunate to collaborate with an old friend and talented designer and manufacturer. With the help of Jeff and KnightVision, we're able to offer some of the finest van accessories and soft goods in the camper van market. We look forward to continuing to bring you innovative and quality products that help van life that much more fun and enjoyable for you.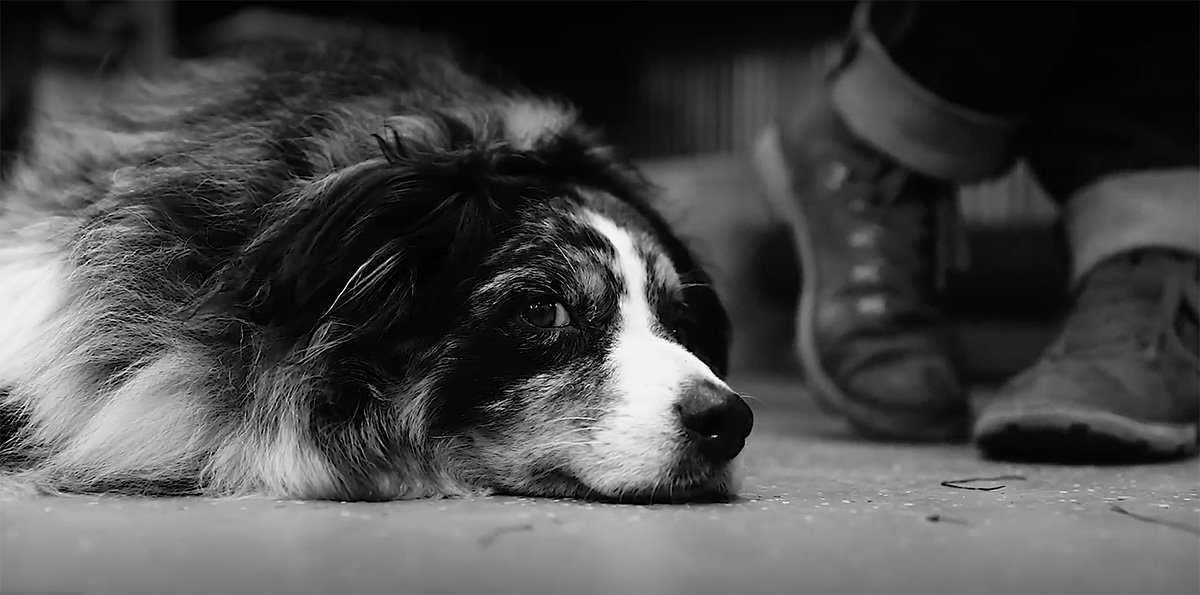 Shop dogs are always around and show their support
We offer a wide range of camper van accessories from window covers to storage bags, bug screens, privacy curtains, cabinets and more. Click below to shop our line of accessories.
There's More Tips, Tricks & Stories Here