Big Head Todd and the Monsters Interview: the Colorado based band and their new TOURIG Sprinter van
We recently finished a fully custom Sprinter van conversion for Big Head Todd and the Monsters. For those of you who aren't familiar, BHTM is a Colorado based rock band that's been going strong writing songs, producing records, and touring since the mid 1980's. The band features Rob Squires on bass, Todd Mohr on guitar and vocals, Jeremy Lawton on keyboard and Brian Nevin on drums. 
After we finished their TOURIG van conversion, we sat down with Squires to learn more about the band, life on the road (past and present), their new rig, and where you can find them touring in their new van. 
Big Head Todd and the Monsters' new touring van, built by TOURIG
You've been around performing and recording music for a while now and have made it pretty big. Tell me a little more about how the band got started? 
We were friends in high school and had a high school band but after high school we broke up and went our separate ways and then in '86 we were all up at CU and that's when we started this band. We got acquainted again and this is now our 35th year. Pretty crazy!…
Do you remember the first show in Boulder you played together? 
We started just kinda playing house parties. Probably the first one was a party in our basement that we threw. We played in a lot of people's basements and living rooms and then kinda worked our way into fraternity houses and frat parties and I think our first real gig at a bar was at JJ McCabe's in Boulder and we just kept playing ever since. 
Did you know right away that you wanted to play professionally?
We were playing because we liked to play music together and fortunately people like music and so they were like "Hey, you got a band? Come over and play at our house!" We started playing because it was something fun to do- it wasn't "hey let's make a career and do this professionally". 
How many albums have you now released? 
I lose track, but I think we've put out 11 studio records and a bunch of live records as well. 
When did you start going on tour? 
We played around Boulder the first year or year in a half. Our first road trip was around '87 or '88 and just bought an old '77 Plymouth van that was all beat up and that was our first touring vehicle.
We basically ran it into the ground. We rebuilt the motor once and finally (it) quit, and ironically our sound man had an identical van to that one so we started using his until we ran it into the ground.
Late '80's, early 90's we got a Ford van and ran that into the ground, too. So we went through three vans in about six years in those early days before we signed a record deal and started touring in a tour bus. 
I read that you guys clocked about 400,000 miles on tour, right? 
Yea, we went through a lot of miles, for sure!
Colonel Mustard, Big Head Todd and the Monsters original touring van
Which van was dubbed 'The Colonel'?
The Colonel was the very first one. It was a mustard yellow color, so we called it 'Colonel Mustard'.
Would you sleep in your van?
Well, in the early days you'd sleep wherever you can! We would crash on peoples floors, on couches, sometimes in the van…in the early days you're on a low budget and pretty much just do what you need to to be able to get out and play music. It wasn't glamorous, that's for sure!
Looking back on the early days of touring and road trips
Do you guys have a tour coming up soon? 
We're pretty much always on tour…you know this last year was very odd (obviously with COVID) so we haven't really played. I think we only did one show last year after our winter tour but we basically haven't played much in the last year. We're hoping that as soon as they let people gather again we'll be able to get back out there. We pretty much tour every winter and then do a bunch of dates in the summer as well.
Are your tours mostly around the Rockies or national?

We mainly tour all over the US.
It's pretty exciting that you have a new TOURIG to take on your next tour. How did you hear about TOURIG? 
With the COVID shutdown we needed to cut our overhead a bit and we've spent so much money renting tour buses over the years we just assessed our business plan and that's one of the major expenses of touring- transportation.
I have a niece, and her fiance built a custom van and it came out super nice and that got me thinking maybe we should scale back and buy a van and have it built how we want it so we're ready to get back on the road and start touring as soon as COVID restrictions are lifted.
So the idea came from my niece and I just started doing a bunch of research as far as what sort of vehicle would best suit our needs and I ended up going with the Mercedes 3500 dually mainly because it has the most towing capacity. And then from there the dealer actually recommended several different buildout companies including TOURIG so I talked to a few of them and felt like the best fit was TOURIG.
The process was really great. Obviously they [TOURIG] meet with you and go through what your needs are and we basically customized it from the ground up based on what functions we needed out of it. It was a really cool process.
Unfortunately they do such great work that they're super busy (laughs) so it took us quite a while to get it in and get it worked on. But that actually wasn't so much of a problem for us because of being shut down because of COVID, so we didn't really have touring to do anyway.
They did a fantastic job. I can't imagine it having come out any better. So we're really excited about it and looking forward to getting out and using it!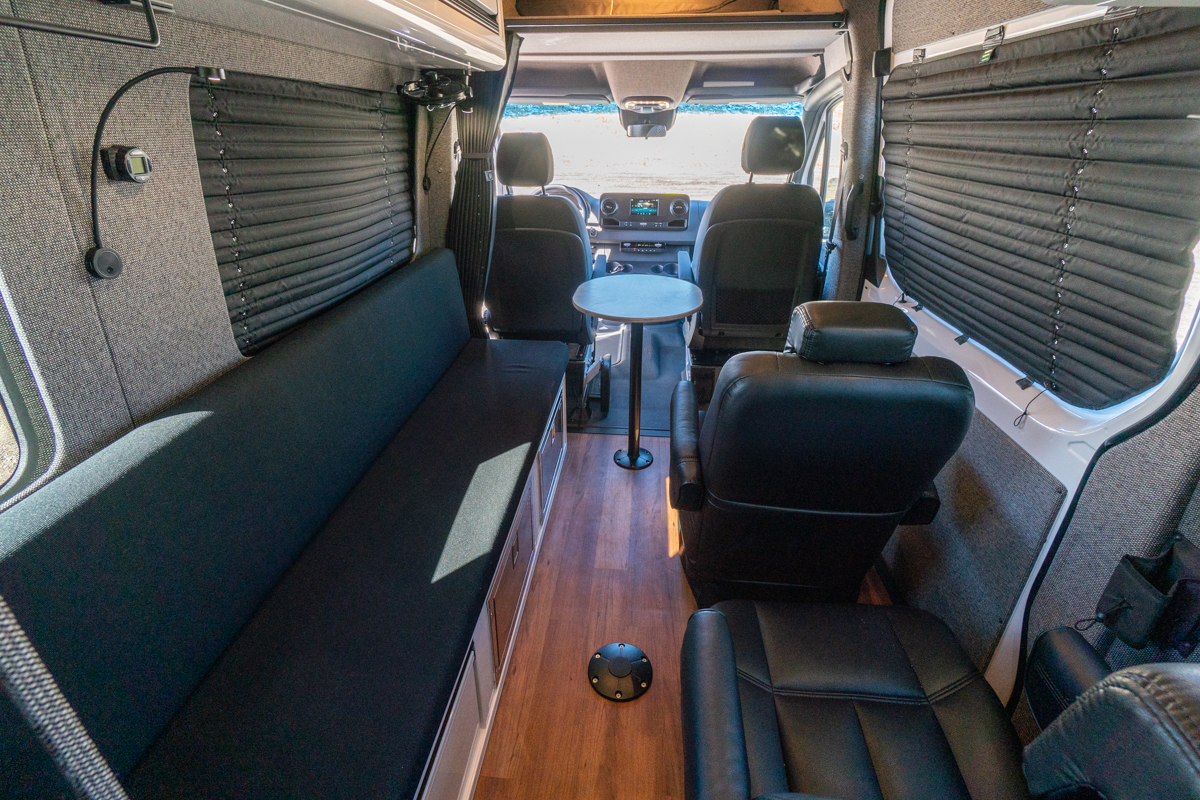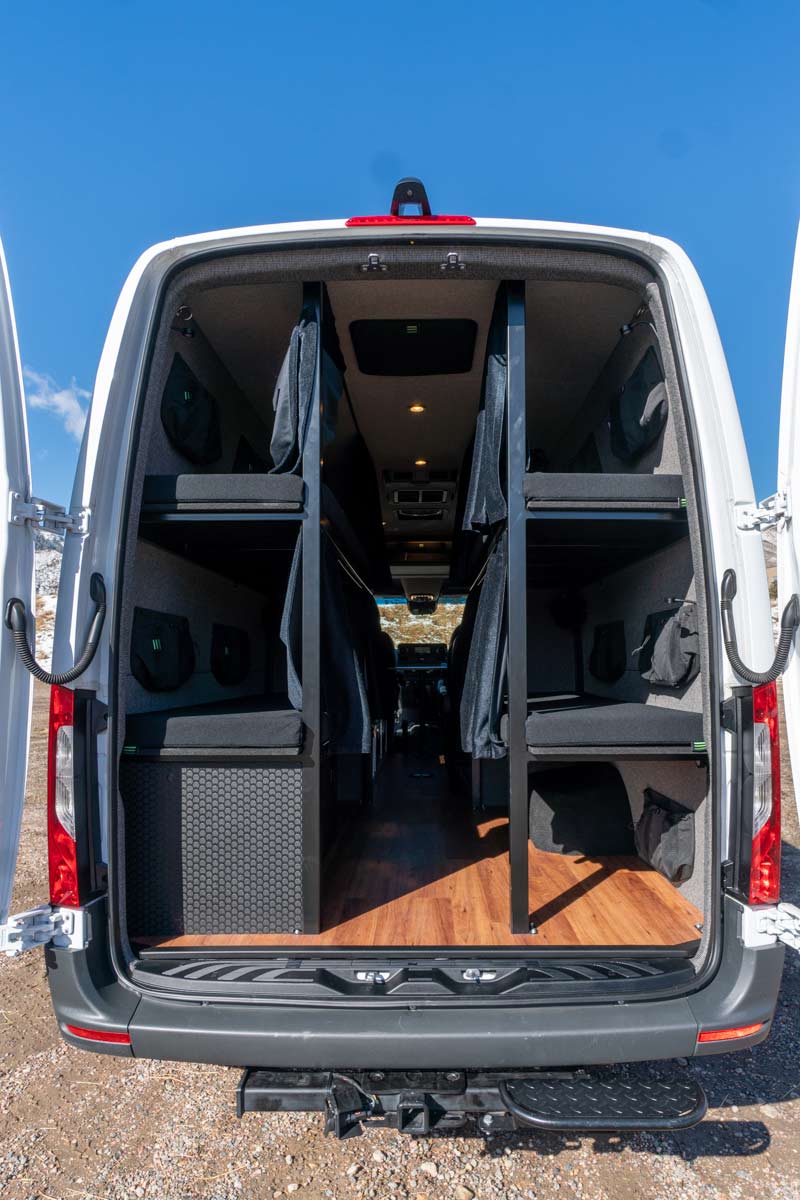 Buildout photos of the band's new tourig rig, customized by TOURIG
So tell me a little bit about your TOURIG setup and how you decided on the layout you went with?
We designed it after we'd been traveling around in a tour bus for 30 years and [we] did about six years in a van before that.
Ours was designed basically as a small tour bus; we built a bunk region which is similar to what you have in a Privo bus- and a microwave, and a refrigerator, shore power. Basically it'll provide us the same thing as a tour bus does – just on a smaller scale.
The nice thing for us is we scaled back crew wise and obviously nobody needs a CDL (commercial driver's license) to drive a van. As opposed to if you buy a bus, then you've got to find someone who can drive a vehicle that big.
In the early days it was kinda fun because we'd drive during the daytime and you'd get to see a lot of the country and it felt more like a road trip whereas the last thirty years in a bus we usually drive at night and were sleeping as somebody else was driving. There are advantages to that as well, but you don't get to see the country and you don't really get the sense of being on the road as much.
I think we all had a bit of nostalgia for those early days from that perspective. So we're kind of looking forward to having it feel a little more like a road trip versus a business trip.
I was going to ask you one of the things you're most excited about the new rig, but it sounds like you might have just answered it- talking about the fun of road tripping back in the day. Is there anything else you're excited about? 
Well, there's that but there's also having it be our own! Having it be our own space is huge whereas in a tour bus it's kinda like being in a hotel room- there are different people in it all the time, you're not sure how clean it is…When you have your own it feels good because it's yours- it feels like your own home. That has a good psychological element to it. 
Do you think you'll take the van out on other road trips or strictly as your touring rig? 
We'll use it primarily for being on tour but I can see people taking it on a camping trip here and there as well. You can be off the grid and plug into shore power so once again, it just gives you so much flexibility. I think it's gunna be a really comfortable vehicle to travel in so it would definitely cover that aspect of going camping as well. 
Would you recommend TOURIG to others? 
Absolutely. Like I said they were totally professional and their finishing details on the inside…it's perfect. Everybody was super nice to work with and professional. I'd give them five stars for sure!
If people want to learn more about Big Head Todd and the Monsters and where they can find you guys on tour, where should they go? 
Bigheadtodd.com is our website and it has all our information and links to social media pages. 
There's More Tips, Tricks & Stories Here