144 vs 170 Wheelbase: Which is Best for You
If you've thought about buying a Mercedes Sprinter van, chances are the first question that comes to mind is "what size should I get?" We're here to help you make that decision.
How is a Wheelbase Measured?
Wheelbase (WB) is the distance between the center of the front and rear wheels. Each of these wheelbase sizes has their own advantages and disadvantages, depending on what you're looking to get out of your Mercedes Sprinter van experience. Here are some things to consider when making your wheelbase size decision:
GROSS WEIGHT (GVW)
GVW is how much weight the van can carry.
Sprinter 2500 has a gross weight of 8,550 lbs.
Sprinter 3500 has a gross weight of 9,990 lbs.
Sprinter wheelbase dimensions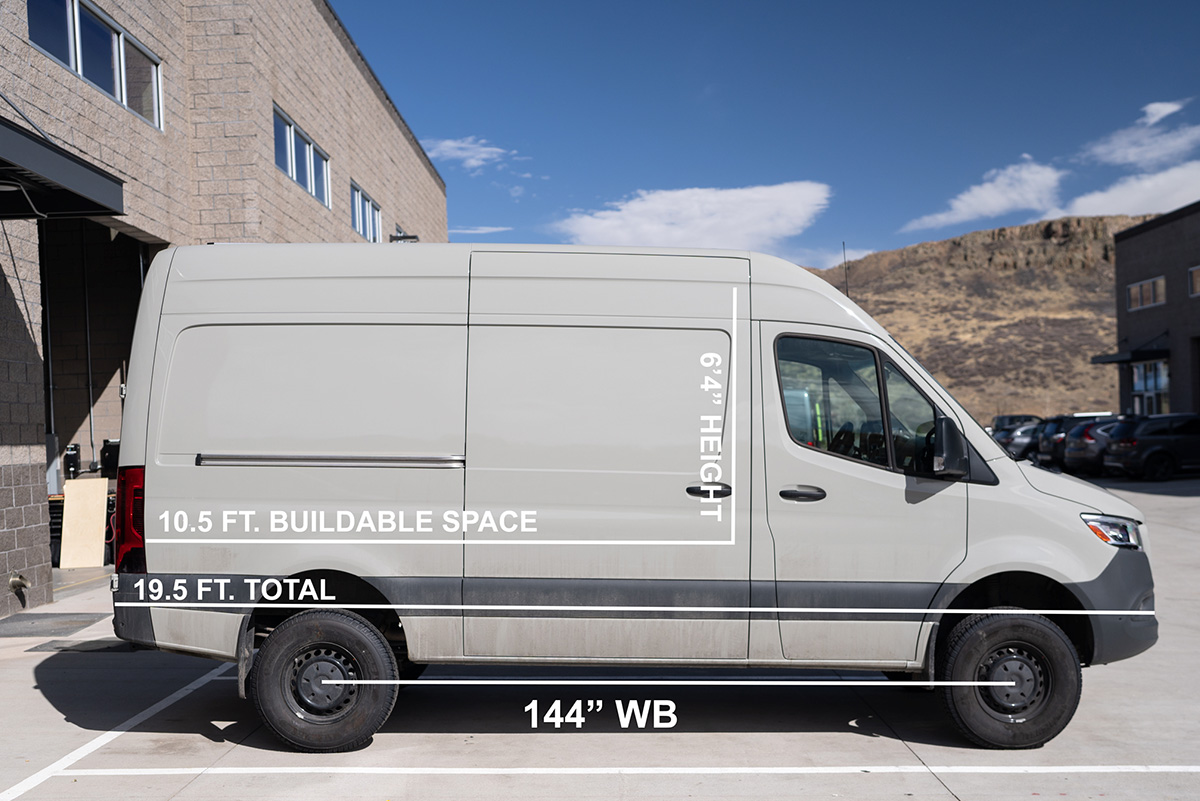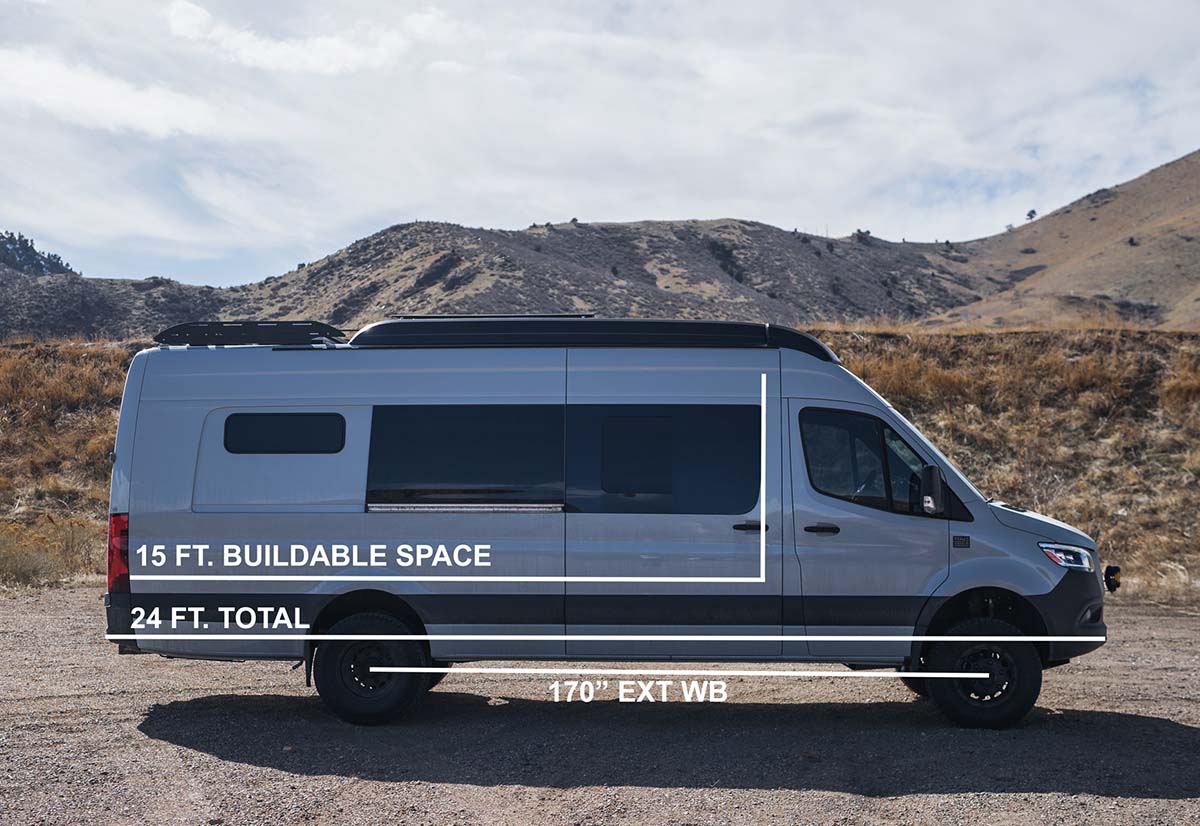 Deciding How Much Livable Space You Need in Your Sprinter Van
Livability in a 144 Wheelbase
Living in a 144 Sprinter is great for an individual or a minimalist duo. Typically, if you're going with a 144 as a duo then you're not looking to live out of your van for an extended period of time. It would be best for a 1–2-week adventure or for weekend warriors looking to avoid costly rental properties. If you're an individual with a dog, then a 144 is your van.
Livability in a 170 Wheelbase
A 170 van is great for a pair who's looking for more space or a family (we've built a 170 for up to 8 people before). As a duo, you're going to live very comfortably in a 170. The bed placement in a 170 vs a 144 wheelbase is the same, so you're going to gain more space in the middle of your van, which can mean more space for additional counter space, a seating area with a workspace, or a longer bench seat, etc. There are a few different options, but the point is you have a lot more space to play with. If you're a family looking for more sleep space, then you can go with a bunk set up, that can be converted into single bunk on the bottom, or two full queens between the primary and lower bunk where a modular bed is setup underneath the "main" bed. The bottom bed can be taken apart (remove middle bed panel and stow) when you need additional space for storage. Another option would be to go with a pop-top sleeping area, which can also be added to a 144 and a 170 EXT.
Livability in a 170 EXT Wheelbase
If you decide you want to go with a 170 EXT then chances are you have a larger family or a lot of friends! A 170 EXT is the perfect size for an interior shower, though it can be done in a 170 as well, you may feel a little more crowded. A 170 EXT is the wheelbase you can purchase that will allow for all the luxurious comforts of a Class C or home living.
Drivability of a 144 vs 170 Wheelbase
Drivability of a 144 Wheelbase
A 144 van gives the same kind of feel as driving any other vehicle that you're used to driving, which can give a sense of comfort to someone who is new to van life. If you decide to go with a 144 low-roof, then you have great accessibility including the ability to go through a drive-thru, which is nice to have if you're in a rush: we've all been there. Personally speaking, driving a 144 or 144 LR is simply a lot of fun. The handle and zip that comes with this wheelbase makes it an overall enjoyable driving experience. Compared to driving a larger model, there's really no stress behind driving a 144. It's a comfortable ride and you can get anywhere you need without the added stress of hugging a corner turn too tight or fearing you won't fit into a packed parking lot. Ease of mind is maybe the greatest perk of having the smaller wheelbase.
Drivability of a 170 Wheelbase
Driving a 170 van takes a little more getting used to because of the additional 2 feet in length. It's not difficult, but there are a few things to consider before taking your 170 van to certain locations including: parking, ease of access, and off-roading, which we'll get into a little more below. People will often say that the 144 is best for driving, but the 170 is best for living.
Drivability of a 170 EXT Wheelbase
Driving the 170 EXT is essentially like driving a boat on wheels lol. No, all kidding aside, driving this beast has its challenges. Learning to get comfortable with driving a vehicle that's 289 inches in length is going to take time and experience to be comfortable behind the wheel. Things to consider are turning radius (you're not going to be making any quick U-turns in this vehicle), uphill driving (the 170 EXT tends to slow down significantly once you get on a slope, which means a lot of right lane driving, especially if you're in the mountains), parking (for very obvious reasons, it's not the easiest vehicle to find a parking spot for), and gas mileage, which we'll get more into in the section below.
Maximizing Your Gas Mileage
 The main factors that will affect your Sprinter gas mileage is vehicle weight and the number of exterior accessories you've added, which go hand in hand. Exterior accessories look cool and are useful depending on what you need or want from your van life experience. However, you want to make sure that you're being efficient when choosing which accessories to add. For example, you may want a front bumper, a rear bumper, and a platform roof rack, but what you may not have thought of was the amount of weight that's going to add to your build. Not only could that weight affect your gas milage, but it could affect what you're able to add on the interior of your van. See lightweight exterior accessory options for your van build here. 
Wind resistance is another potential hinderance from choosing too many exterior accessories, which will ultimately affect your gas mileage. A benefit of choosing a Mercedes Sprinter is that it's available in 4×4, opposed to the Ford Transit, which is better for gas mileage because you can gear down to 2WD when you're driving on pavement. If you wnat to extend your fuel range, another option is to add an auxiliary fuel tank like the 48 gallon fuel tank by Agile OffRoad.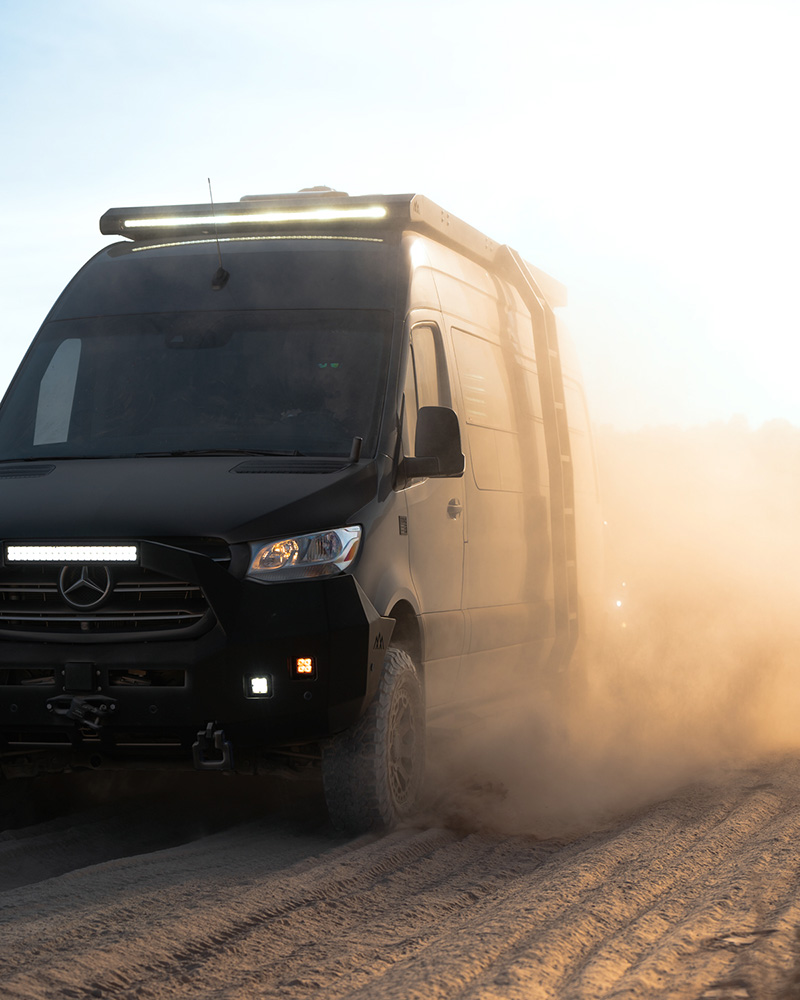 TOURIG 144 Sprinter van offroading at sunset
Off-Roading Capabilities
Aside from the obvious size advantages of off-roading with a 144 vs 170 wheelbase (or 170 EXT), consider these other factors in making your decision:
Drivetrain
2WD vs 4×4 will make all the difference when off-roading in tough terrain. If you don't want to entertain the option of off-roading, then choosing a 2WD could be a great option for you. If you plan to make those snowy trips to the mountains to enjoy your snow sport of choice or hit a back road for a desolate camp spot, then you'll want to consider spending the additional money (typically a $10,000 difference) for a 4×4.
Suspension
If you've ever been off-roading then you understand how important clearance and a smooth ride is. Chances are if you have a built-out Sprinter van, then you have an interior setup that includes valuable items, items that could easily be shaken up all over the place on an off-road excursion… you see where we're going with this. Not only for your items, but for your sanity, you're going to want as smooth a ride as you can possibly have. An additional item that could add protection to the bottom of your van and help with longevity is a skid plate. You can choose to get a complete skid plate system that will cover all your vital drivetrain components or choose a single skid plate for a specific area that's taking more damage than the others.
We recommend an Agile Off-Road RIP Kit and a Van Compass skid plate.
Tires
Tires are a crucial part of having a good or bad off-roading experience. You're going to want a good tread that can assist in getting through tough terrain. You don't want to be stuck in a situation with an incapable set of tires.
 We recommend Toyo Open Country A/T III.
Additional Accessories
If you find yourself in a tough situation that you can't get out of, even after you've added the items we've talked about above, then here are some additional items that could prove beneficial:
> Warn VR Evo 12-S Standard Duty 12,000 lb. Winch w/ Synthetic Rope (WAR103255)
What Wheelbase is Best for You?
 If you're a solo traveler or a duo who can pack light without a lot of adventure equipment (mountain bike, kayak, etc.) then a 144 WB is perfect for you. If you have a family or if you want the additional space, then you may want to consider a 170 or 170 EXT WB. If you want extra sleeping space for your family, but a 170 EXT seems like too much, another option to consider is adding a pop-top living area on the roof of your van, which is perfect for sleeping children. You can get your pop-top installed at a service and installation company such as TRG.
We love all three options and have had the joy of living out of all three and have had great experiences in all wheelbase sizes. We hope this article can help you in making the decision that's best for YOU.
There's More Tips, Tricks & Stories Here